California ministry melds community, theology, sustainability
by
| 22 Nov 2019
Image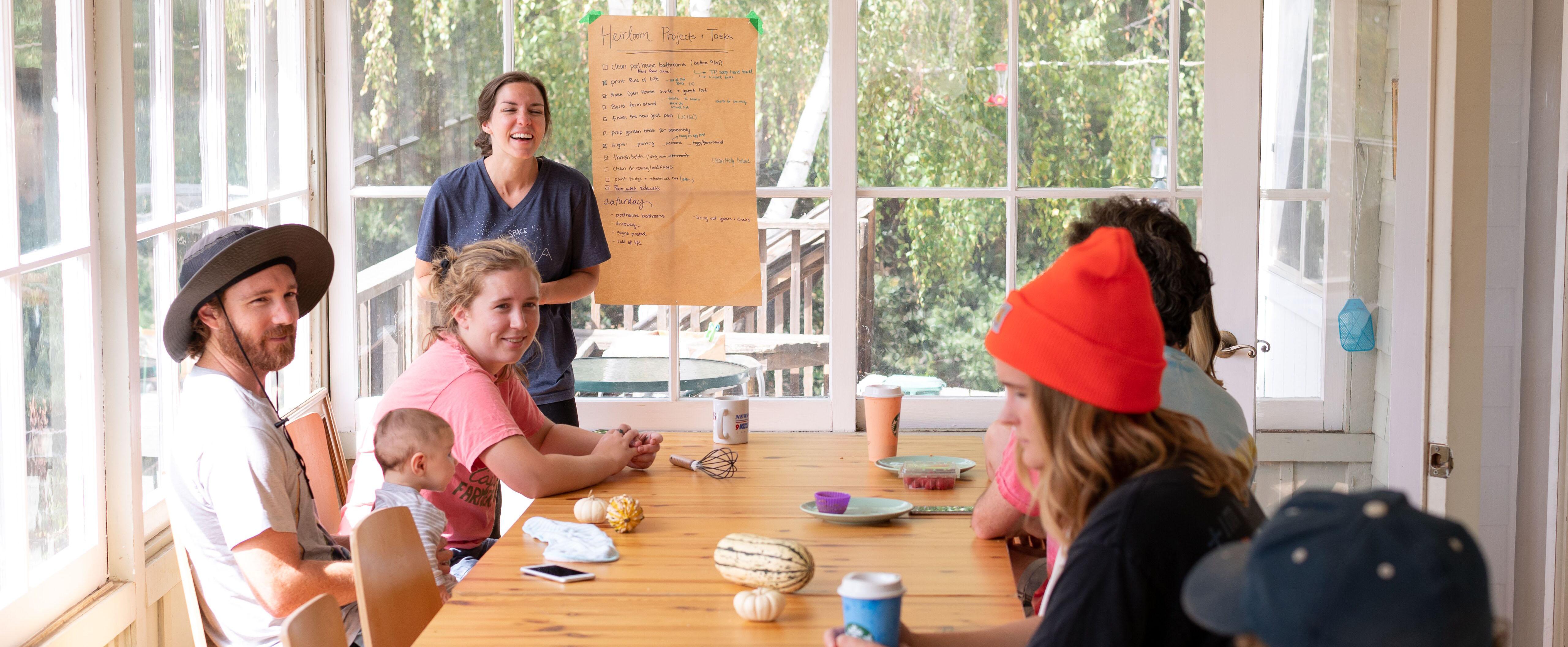 Castro Valley, Calif. - California's Bay Area is known as a fast-paced region. Nestled in the hills of the "East Bay," a new ministry is inviting residents of this bustling region to slow down and see the love of Christ through a variety of avenues
Heirloom, a farm and intentional community in the foothills of Castro Valley, aims to bring education to its surrounding communities about the stewardship of God's creation using theological practices. Its core ministry areas are hospitality, agriculture, and creativity.
The ministry was born out of the Possibility Project, a two-year residential lay-ministerial program on the Northern California District. Over the last year, as the leaders looked for discernment in where to go with the program, the opportunity to buy the property arose.
"In conversation with our district advisory board and our residents, we felt a nudge towards a more monastic set-up," said Jeff Purganan, a co-pastor in the community. "We found this property through friends of friends and the district purchased the property, and now our intentional community has moved to a farm."
Heirloom's residents moved onto the 100-acre property this summer. They adhere to a rule of life that is based on Wesleyan-Holiness theological practices and principles. Among those principles is a call to resistance and embrace: to resist any practices and ideologies that cause harm to their relationship with God, and to embrace ways of living that bear good fruit and increase love of God and neighbor.
The residents also share their land with roughly 70 chickens, rabbits, quail, goats, and a neighbor's cattle. In addition to the animals, they have seven garden beds and a persimmon orchard. The community is also home to a few small businesses owned by the residents, including one that sells farm-raised eggs and persimmons to the community. These ventures often open the door for conversation with non-believers. 
In addition to the farm, the property has guest rooms in the Farmhouse for retreats and other small overnight events, as well as gathering spaces for groups ranging from five to 50. 
"There's quite a bit still to be understood about the property," Purganan said. "But there's a lot of space to start thinking about ways to use the property that are faithful and help with our witness here in the Bay Area, especially around issues of sustainability and stewardship."
On Sunday nights, they hold a "supper church" where people can join in for a sermon, communion, and then a meal prepared from the animals and plants at Heirloom. During the meal, the conversation points are centered on an understanding of the evening's message and how the lesson applies in their own lives. 
"We often have first time guests," Purganan said. "Recently a filmmaker joined us at the table who doesn't regularly attend church and we had a really lovely discussion around what makes a physical place holy or not holy."
The discussions about sacred spaces were held in small table groups, and highlights of each conversation were shared with the whole gathering.
As the ministry gains momentum in its first few months, their opportunities to reach out to their communities have become more visible.
Homeschool groups have been using Heirloom as a place to gather and learn how to take care of animals ethically. Soon, Heirloom staff will be meeting with pastors in urban Oakland about how to engage in education regarding the outdoors, health, and their connection to faith.
Ultimately, that's what the ministry leaders want: to help educate those in their communities about ethical stewardship of God's creation and let that shine through their actions.
"For most of us, education has been really critical in our formation, but the type of education, especially a seminary education is not always easily accessible," Purganan said. "How do we take some of the core commitments of the church, and make them common practice? So that's really where I think we see ourselves heading: in the direction of providing explicit but deeply rooted theological practices."