South America region celebrates seminary graduates
by
| 13 Dec, 2019
Image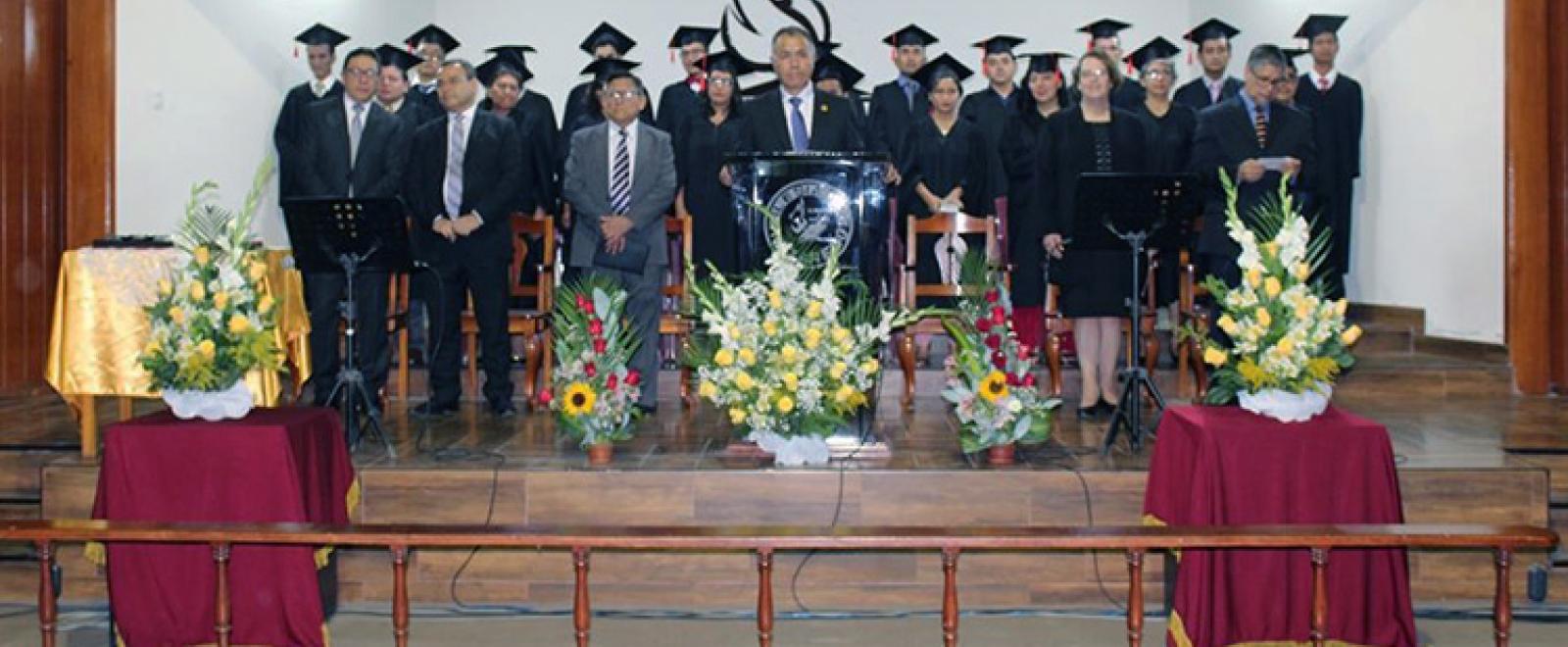 Nazarene seminaries and colleges across the South America Region held their graduation ceremonies in November and December. This culminates the region's academic calendar.
Chile Nazarene Bible Seminary held its ceremony 9 November to celebrate the graduation of three students with bachelor's degrees and one who graduated from the licenciatura program.
Several national and regional authorities were present at the ceremony: Alessandro Polonio, field strategy coordinator for the Southern Cone; Jorge Julca, regional coordinator of theological education; Orestes Barboza, superintendent of the Central District; Richard Faundez, president of the national board; Oscar Varas, then president of NBS, as well as invited pastors, family, and friends of the graduates and seminary students.
"Nazarene Bible Seminary is very satisfied to see students reach their graduation and to see them serve in diverse areas of ministry in the Church of the Nazarene in Chile," said Patricio Huanca, the newly elected president of the Nazarene Bible Seminary in Santiago.
A week later, as part of the 100th anniversary celebration of the Church of the Nazarene in Argentina, the Seminario Teológico Nazareno del Cono Sur (Nazarene Theological Seminary of South Cone) celebrated the culmination of their academic year. They honored 40 graduates, who finished diplomas, licenses (licenciatura), and Bachelor of Theology.
"Our thanks to God for another promotion of graduates in the Southern Cone Area, who with effort and dedication culminated this stage in their ministerial formation and in response to the call they received from the Lord of the harvest," said Jorge Julca, president of the seminary.
On 7 December, Nazarene Theological Seminary of Peru held its graduation and closing ceremony for the 2019 academic year. It was held at the district center in Chiclayo.
Tammy Carter, administrative director of the International Board of Education, gave a message from God's word. José Evelio Vásquez, now former president of NTS–Peru, led the commencement ceremony.
The seminary celebrated 24 graduates, including 20 graduates with a bachelor's in theology. 
"The Nazarene Theological Seminary of Peru continues with its mission of keeping Christian holiness alive, forming pastors and leaders who respond comprehensively to contemporary challenges, in order to fulfill the Great Commission," said Oscar Suarez, Peru communications coordinator.
--Church of the Nazarene South America