Retired general treasurer, NPH president Robert Foster passes away
by | 18 Apr 2019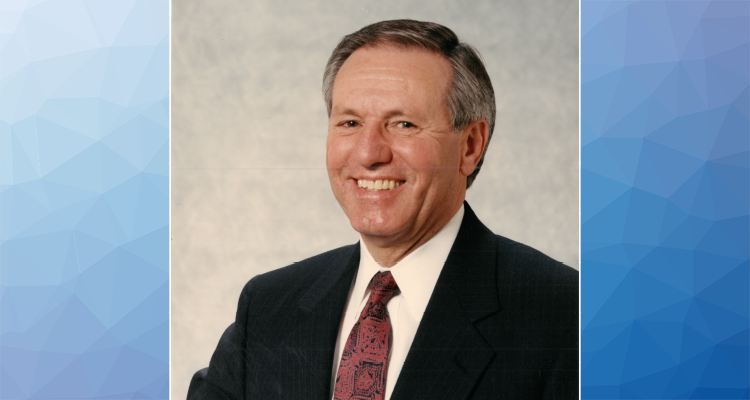 Retired Church of the Nazarene General Treasurer and Nazarene Publishing House President Robert Foster passed away 12 April. He was 87 years old.
Foster served the Church of the Nazarene in several capacities. From 1966 to 1987, Robert served in California as the Pasadena College (now Point Loma Nazarene University) business manager. During that time, he was responsible for managing the school finances as it evolved from Pasadena College to Point Loma Nazarene College and moved from Pasadena to San Diego.
"Bob Foster's value to Pasadena College was incalculable," said Stan Ingersol, denominational archivist. "He went to the college when the school was in serious financial trouble. He developed an austerity plan that left the school solvent by 1971. He had a pivotal role in the school's move to San Diego, calculating the financial impact of moving versus not moving. He then kept the school solvent after it relocated. Dr. Reuben Welch said in an interview with Ron Kirkemo, Foster 'saved our bacon.'"
After more than 20 years at Pasadena College, he became president of NPH (now The Foundry Publishing) in 1987.
"Dr. Foster was president of Nazarene Publishing House during a critical time of transition for Christian publishing," said Mark Brown, The Foundry Publishing chief executive officer. "He set a strong financial foundation that would prepare NPH for the future changes in the church and the publishing industry. Through the years, I observed him make decisions based on what was good for the Kingdom and the organization he served, regardless of the impact on himself. He was truly a layman called of God."  
 
Foster led NPH for eight years and was elected Church of the Nazarene general treasurer in 1995.
"We are so grateful for Dr. Foster's lifetime devotion to our church and, specifically, for his faithful service as general treasurer of our denomination," said Keith Cox, Church of the Nazarene general treasurer. "He nurtured a culture of stewardship throughout our organization that is a lasting legacy."
In his 36 years of service to the Church of the Nazarene, Foster impacted many people by living out God's call to holiness in his personal and professional life.
"I grieve today for the death of my friend and mentor," said Phil Hamner, senior pastor at Highland Avenue Community Church of the Nazarene in Rancho Cucamonga, California. "He was a man of unwavering integrity. His financial leadership of Pasadena College helped move it to Point Loma and put it on firm footing. His presidency of Nazarene Publishing House deepened the effectiveness of the influence of the Wesleyan-Holiness message. His final role as the general treasurer of the Church of the Nazarene was the culmination of a life lived in full service to Christ. He was the consummate layman. Every pastor prays for a man like him in his church."
Foster attended El Camino Community College in Gardena, California, and he received a certificate in banking from the American Institute of Banking. He graduated from the Policy Institute at the University of Southern California and from the National Association of College and University Business Officers Management Institute. In 1982, Robert received an honorary doctor of laws degree from Point Loma Nazarene College.
Robert was preceded in death by his wife, Wilma, in 2016. He is survived by their three children, John, David, and Linda.
Prayer is requested for the Foster family.