Philippine pastors' kids hold first ever summit
by
| 27 Aug 2020
Image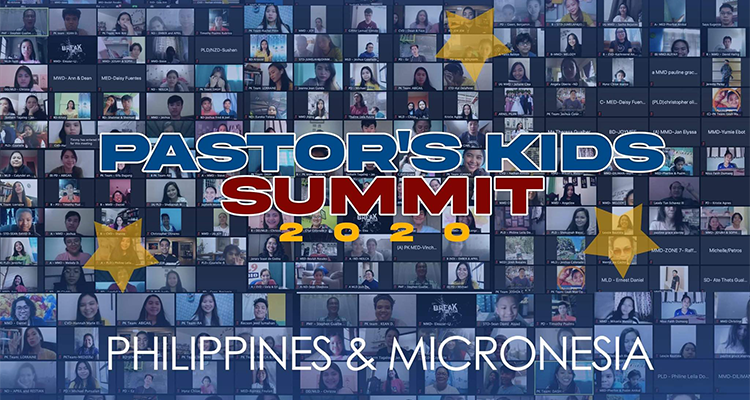 The first online summit for Philippine Nazarene pastors' kids (PKs) was held 21 August 2020 with more than 150 participating PKs. Spearheaded by a team of passionate PKs in the Philippines, this event represents the launch of the Philippines-Micronesia Field's decadal emphasis on children.
"My prayer and desire for all the pastors' kids in the field is that they will be radical in their faith for Jesus Christ, trusting and obeying Him every step of the way, and to become incarnational disciples of Jesus who make Christlike disciples wherever they are," said Stephen Gualberto, field strategy coordinator.
The summit aimed to empower PKs in their roles and strengthen the fellowship among them. This event gave them encouragement, inspiration, and established accountability in their journey toward Christlikeness.
The summit event was packed with topics, including being an "Alongsider" or someone who can hold other Christians accountable and encourage them in their walk. There was also a forum on justice and discipleship. The PKs enjoyed age-appropriate workshops, worship, testimonies, and reflections while sharing in breakout sessions. 
"The most impactful experience in this summit is the sharing part, where we got to know the struggles of our fellow PKs, and we also got to share our struggles as well," one participant said. "I realized that I am not alone, that I have an extended family where I can share my problems with, and they can give the best advice because they have experienced it as well."
 The summit affirmed attendees by reminding them that they are not journeying alone. This knowledge helps them realize their value and purpose in their identity as pastors' kids.
One PK stated five practical actions he would apply after the summit.
"First, I will hug my parents, because I hate the thought of them crying or discouraged because they see me struggling. Second, I will try my best to look at the blessings rather than the problems. Third, I will be the light no matter how hard it can be, especially in this generation. Fourth, I will focus on God and not let others bring me down. And last, I will learn to be a proud PK."
This summit is the beginning of lifelong relationship-building and intentional mentoring of PKs that are called, favored, and strategically positioned by God to do His will. 
Those who participated are looking forward to the next event, where PKs can again have meaningful conversations, warm fellowship, and strengthen one another.
"I'm so grateful to those who push these kinds of events for us PK's," another participant said. "God knows how much we actually need gatherings like this, where we can be heard, understood, and comforted by people that go through the same things."