Ohio church doubles yearly food distribution amid pandemic
by
| 08 Jan 2021
Image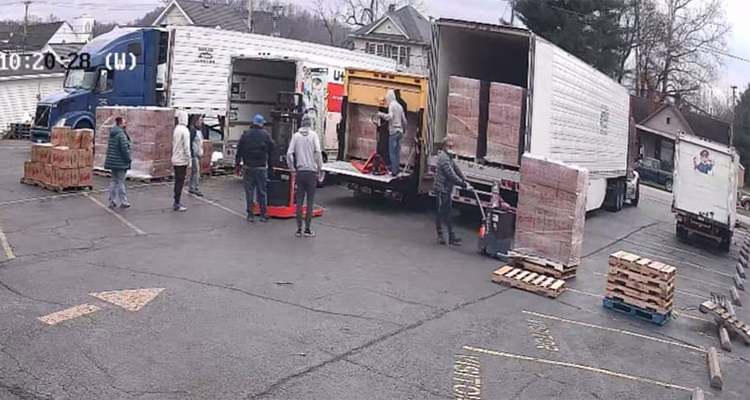 When a farmer in Oregon needed a place to distribute more than 400,000 pounds of food, someone tagged Chad Garinger, lead Pastor of Sciotoville Church of the Nazarene, in the Facebook post. That generosity allowed the church's food bank to distribute double its annual amount.
The Potter's House is a compassionate ministry of Sciotoville Church of the Nazarene, a small church with an attendance of less than 50. More than 80 percent of the surrounding county's 78,000 residents live at or below the poverty line, and nearly half of the residents visit the church's food pantry. 
Garinger received even more than the 400,000 pounds of food the farmer had initially mentioned. Potter's House worked to distribute the food at multiple points across the county as well.
"Last year we distributed 434 tons of food to our community," Garinger said. "When you add the farmers' program, we have distributed over 800 tons of food to our county."
Garinger commended the action of their small church.
"Not everybody in the church participates in everything, but everybody in the church participates in something," Garinger said. "[It could be] an elderly lady sitting at home who says she can't come help in the distribution but can certainly pray for us. That's huge."
Under the direction of Erika Stepp, Potter's House offers more than just a food bank. They help community members sign up for health benefits, heat assistance, SNAP benefits, and many more social service programs. The staff, who are all IRS certified tax volunteers, also help prepare nearly 2,500 individuals' state and federal tax returns during tax season. 
"People know that if they have a need, even if we can't meet that need, we will find someone who can," Garinger said. "We know who to ask."
The Portsmouth/Sciotoville area is a post-industrial city along the Ohio River, closer to Kentucky than the next city in Ohio. All but one of the factories in the area have closed up over time, and the economic impacts of the COVID-19 pandemic have hit the already-struggling community hard. 
The community supports the Potter's House in many ways. Local churches send volunteers or financial assistance, and sometimes both. One day, Garinger found the alley behind the building paved after mentioning to the mayor that the gravel made it difficult to offload food with hand-trucks and sometimes ruined fresh produce as it spilled. A bar in a local city donates one third of its tips every quarter to the food bank. Some of the bartenders have even volunteered at Potter's House.
"I'm guessing some of those clients and patrons of that institution probably come here and participate as well," Garinger said.
Just as the community is aware of Potter's House's impact, the church knows that the community needs the hope it provides.
"The whole tagline for Potter's House is 'Reshaping lives in Jesus' name,'" Garinger said. "If you walk the neighborhoods, if you see the people in the community, you … know for sure that these people have felt real needs. What I love about this church is that we are willing to do everything it takes to meet the needs."