North Central Ohio District makes surprise WEF donation
by
| 17 Jul 2020
Image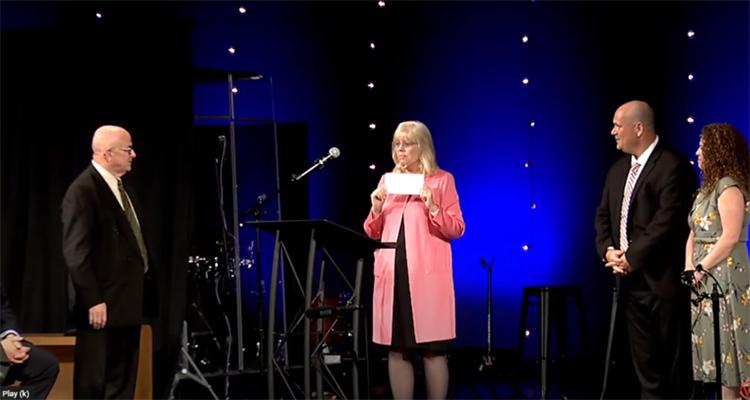 During a small ordination service on the North Central Ohio District, District Superintendent Wendell Brown made an unexpected presentation: he gave General Superintendent Carla Sunberg a $22,000 check for World Evangelism.
Sunberg was not the only one surprised by the donation. In March, as the COVID-19 pandemic began affecting church services and giving, Brown instructed district pastors to worry about "the bare minimum."
"We said to make sure they keep their lights on and to make sure that your local church is a point of ministry at a time of need in your community," Brown said.
While some pastors expressed concerns about skipping their payments to the district budget, Brown and other leaders stressed the importance of local ministry.
"They're the first line of defense, speaking into people's lives," Brown said. "We said, 'The district budget should basically be the last thing that you should worry about right now. We'll find a way.'"
As the district finished its final quarter, leaders were surprised to see a $22,000 surplus, which they donated to WEF.
"It was a very easy decision as a finance team," Brown said. "We thought our overage needed to go to support the global mission of the church. God had blessed us, and it was important for us to provide that blessing further."
World Evangelism giving provides the foundation for all Church of the Nazarene ministries. Gifts are used to create new churches and ministry outposts, support the work of missionaries and regional ministries, aid in the creation of literature and resources, provide holiness education, and sustain a global ministry network that benefits self-funded ministries such as JESUS Film Harvest Partners and Nazarene Compassionate Ministries.
"When [we] identify with the Church of the Nazarene, [we] identify with a global mission," Brown said. "I think it's such a wonderful aspect about our church, that we're not trying to be an American church with an international presence. We are a church that is ministering across the globe. The North Central Ohio District is just a small part of that, but if the Lord can bless us, then we want that blessing to be carried around the globe because we want people to pass from death to life. We want people to find and know Jesus Christ."
Ultimately, Brown is proud of how the churches adapted during this difficult season.
"They were learning how to manage and do more with less and then still found a way to supply the mission," Brown said. "It's a great model for people to understand that although crisis happens, God still provides all. All He's looking for is faithful people to say yes to Him."