MNU awarded $1 million Mabee Foundation challenge grant
by | 18 Jan 2019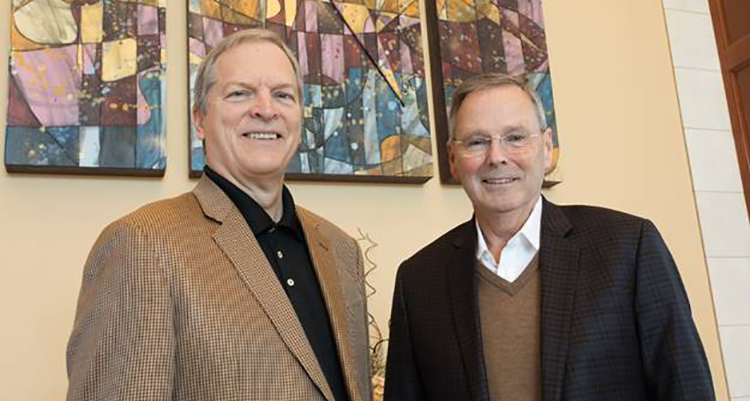 MidAmerica Nazarene University announced the award of a $1 million challenge grant from the J.E. and L.E. Mabee Foundation toward the construction of the new $20 million Cunningham Student Center – the centerpiece of MNU's Bright Futures campaign. The student center will become the hub of campus activity, housing student services, dining, spaces for learning, leadership development, and community engagement.
"We are extremely grateful for the longstanding support we have received from the Mabee Foundation," said David Spittal, university president. "This represents the university's fifth Mabee Foundation challenge grant. You can see evidence of the foundation's support in key areas around campus such as the Bell Cultural Events Center, the Cook Center athletic facility, and the Mabee Learning Commons."
Spittal says the new student center plays a very important and symbolic role in forming the future culture of MNU.
"The construction of the new Cunningham Student Center represents a transformative opportunity to intentionally design a facility to serve as a resource to attract the best and brightest students while meeting the needs of 21st century learners," Spittal said. "We see this as the central campus space where classroom knowledge will find real-life application as students' leadership skills begin to emerge due to increased engagement."
The 50,000 square-foot facility will be a place where students, faculty, staff, alumni, and the external community can easily participate in a variety of activities. The new student center will offer better-designed community space to dine, collaborate, learn, and socialize. Plans include the following:
•    Collaborative learning and meeting space
•    The Merc (campus store)
•    Interior and exterior lounge and study spaces
•    Conference center
•    Fitness facilities
•    Expanded dining services
MNU leadership hopes the new center, with its modern amenities, will elevate the student experience on campus. The current 52-year-old facility was built for a much smaller student population and is pressed beyond capacity.
"I'm so thankful for the support of the Mabee Foundation," said Tim Buchanan, Bright Futures campaign co-chair. "As we have learned from our past campaigns, we believe a challenge grant from the Mabee Foundation provides the necessary momentum and impetus to propel the Student Center campaign to a successful conclusion. Now is the time for friends of MNU to provide a tangible expression of support for the campaign."
The funding from the Mabee Foundation will be awarded to the university as a challenge grant requiring the remaining $11 million to be raised in cash and multi-year pledge commitments by 8 January 2020.
"This is a fantastic opportunity, providing momentum for donors to join us with an investment in future generations," said Jon North, vice president for university advancement. "Just as sacrificial giving built our current campus, the same kind of visionary commitment to future generations is in play today."
For more information on the Cunningham Student Center and the Bright Futures campaign, visit brightfutures.mnu.edu.