Maximum Missions event helps reopen Paraguay church
by
| 19 Nov 2020
Image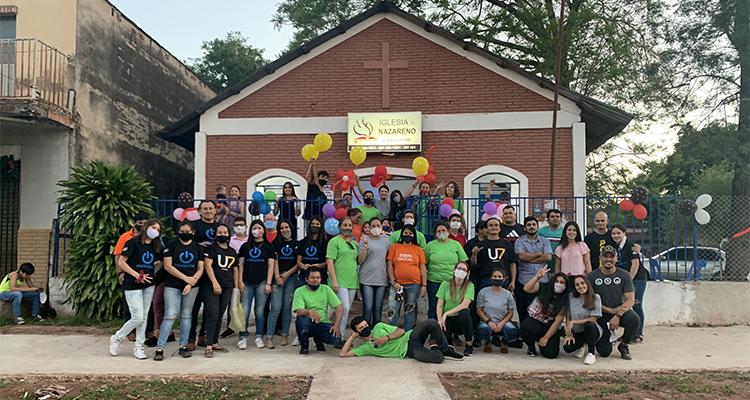 The Church of the Nazarene in Caacupemi, Paraguay, is beginning to have in-person services again, and the church hosted a Maximum Missions event to announce the reopening.
The church had several goals for the event. The first was to give a spiritual wake up call to the neighborhood by letting them know that there is an active church in the area. The event also provided the church's youth with an opportunity to serve and sense their call to ministry. Finally, organizers wanted to unite the Paraguay Central District and proclaim the gospel.
About 50 youth joined the event, evangelizing at several homes in the surrounding neighborhood. The youth used face coverings and antibacterial gel to protect the participants and the neighborhood during the pandemic. The purpose of the event was to "infect" the listeners with the good news and preach that the only hope humanity has for salvation was brought to the world through Jesus. He is our "effective vaccine."
At the end of the event, a worship service was held. All those who served were inspired by worship songs and message of Pastor Edgard Ortigoza.
"I felt blessed by this event," Ortigoza said. "I'm convinced that this event brought wonderful fruit to our neighborhood, in addition to waking up the area and making evangelistic contacts that will help us create small groups and develop the REBORN vision that our superintendent is encouraging us with."
The district hopes that the Caacupemi church becomes a key church in the district, which will help the Central Paraguay District reach its development goals. In addition, their hope for the youth is that they will continue to be involved while also developing their missionary gifts.