Fire devastates Louisiana church
by
| 12 Aug 2021
Image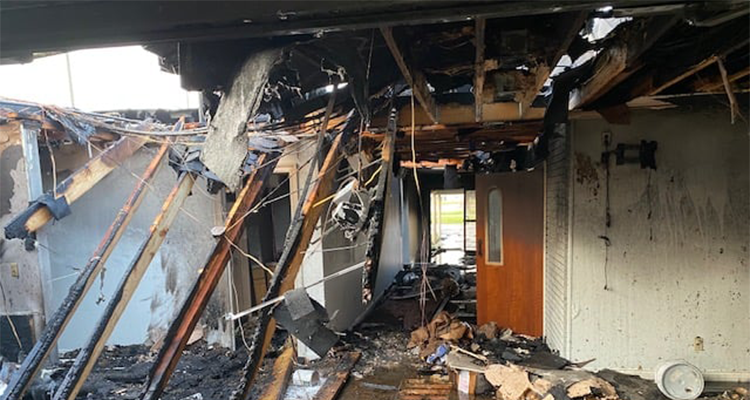 A Louisiana church caught fire Saturday, 7 August 2021, just weeks before the congregation prepared to move back into its sanctuary after a year of repairs due to hurricanes Laura and Delta. 
John Hoffpauir, lead pastor of Lake Charles First Church of the Nazarene, received a call early Saturday morning from the woman who lived next door to the church. She was "in hysterics" and told him the church was on fire.
Hoffpauir reflected on the fire by quoting the hymn God Leads us Along.
"You know the song, 'Some through the waters, some through the flood, some through the fire, but all through the blood'?" Hoffpauir asked. "I didn't know we'd be doing all of it."
The cause of the fire has not been determined. The church's education building, which was largely intact after the hurricanes, sustained the most damage. Before the fire, the congregation was using the education building for Wednesday night services and Bible studies.
"I know it's just the building, but it's like our house," Hoffpauir said. "It's home. I have a man in our church; he's 89 years old and his name is on the cornerstone from when they built this place. There is a lot of history and memories here. But I told them 'We are still going to be the church.'"
Fortunately, the church's grand piano seems to have escaped internal damage. During construction on the sanctuary, the piano was covered and stored in the education annex.
Hoffpauir is grateful for the church's relationship with Lakewood Bible Fellowship, a local nondenominational church that has been "home" since the hurricanes last fall. Now that Lake Charles First needs a home for all of its Wednesday night activities, Lakewood Bible Fellowship has extended the use of its facilities for those hours as well. 
While Hoffpauir is confident the church will be covered financially, he requested prayer for the situation.
"Pray that God would help us know if there is something different than what we had in [the church], that we would be more effective in reaching our world and this community," Hoffpauir said. "I don't want to get locked into the thought of, 'It's got to go back exactly like it was.'"