Cabo Verde celebrates 120 years
by
| 03 Dec 2021
Image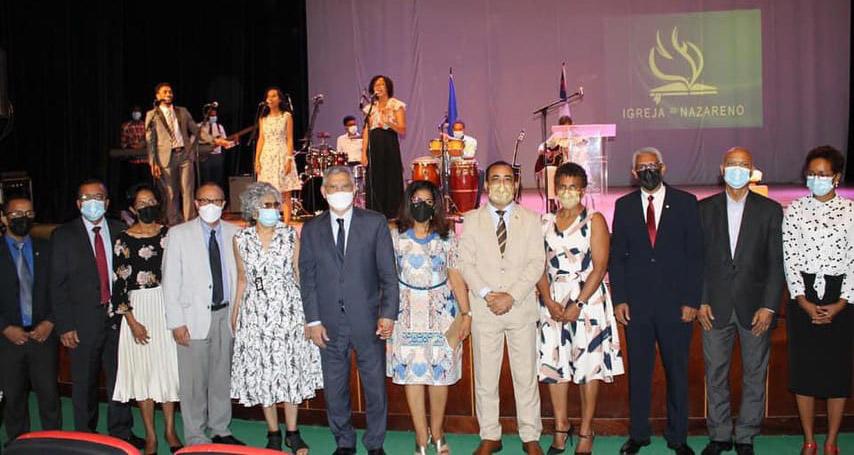 The Church of the Nazarene in Cabo Verde recently celebrated its 120th anniversary. Under the leadership of General Superintendent Eugénio Duarte, attendees remembered the past, analysed the present, and looked toward the future.
The epicentre of the celebrations was the island of Brava. The celebrations began on 6 November with a reflection session (The Church yesterday and today) in Ribeira Grande de Santiago, a World Heritage site, led by Pastor Delfino Ferreira.
The following day, a devotional service was held at the National Auditorium in Praia, capital of Cabo Verde. Duarte, a Cabo Verdean and a native of Brava, challenged those in attendance to keep themselves pure and to live up to the denomination's motto and standard, "Holiness unto the Lord."
The outgoing president of the Republic of Cabo Verde, Jorge Carlos Fonseca, and the assistant secretary of state, Lourenço Lopes, were also in attendance.
In 1901, João José Dias, a Cabo Verdean who immigrated to the United States of America, returned to his homeland, the island of Brava in Cabo Verde, to share the message of salvation. Today, from the small church of Achada Furna, the first of the Church of the Nazarene in Africa, the denomination is now present in 44 countries in Africa.
Thanks to the ministry started by Dias, there have been 120 years of the Church of the Nazarene's influence for the Cabo Verdean nation. In honor of Dias, a street is named after him in the capital city of Brava Island (Nova Sintra).
On the island where it all began, the church of Ponta Achada was delighted to have Regional Director Daniel Gomis visit.
"I am a product of the Church of the Nazarene in Cabo Verde," Gomis said. "When I became a believer, my pastor was Antero Fontes, a Cabo Verdean diplomat in Dakar, who was also a pastor."
According to Gomis, the Church of the Nazarene in Africa has not only been influential in the past but continues that influence through Duarte, who served as a missionary, held various positions in the Nazarene structure on the region, and today serves as a general superintendent.
Currently, there are Cabo Verdean missionaries in Senegal, São Tomé and Príncipe, Guinea Bissau, and Angola. The expectation, Gomis says, "is that the new generations of Cabo Verdean Nazarenes will also be part of God's missions in Africa."
That desire is echoed by David Araújo, the South District superintendent in Cabo Verde.
"Because of Cabo Verde's geostrategic position and the desire of Cabo Verdeans to emigrate, we are able to take the gospel to several other countries, namely those in Africa," Araújo said. "We must, therefore, invest in training more missionaries."
What started 120 years ago on the Island of Cabo Verde transformed a continent. The church in Cabo Verde is confident they will hold true to the mission of making Christlike disciples in Africa and beyond.