Oil field ministry impacts Texas communities
by
| 26 Feb 2021
Image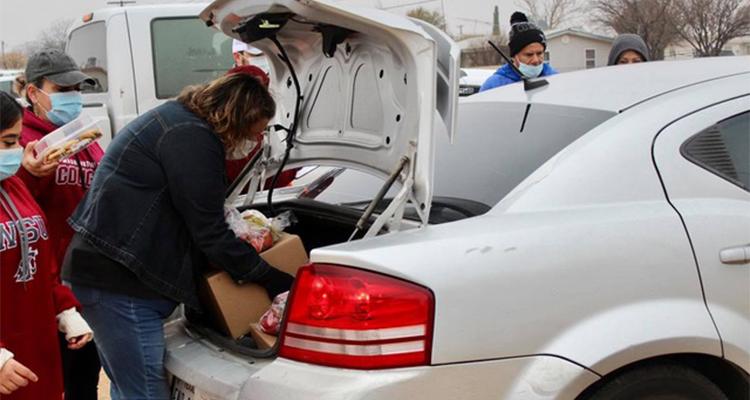 The Permian Oil Basin and Energy Ministry has been reaching oil-field workers in rural West Texas since 2019. While adapting due to the COVID-19 pandemic, they have seen God work through them to impact these communities.
Josh Cisneros, a pastor at Big Spring, Texas, First Church of the Nazarene, heard District Superintendent David Downs speak at the West Texas District Assembly about a vision to reach workers of the Permian Oil Basin. The Permian Basin, which stretches across Western Texas and southern New Mexico, is roughly 86,000 square miles of oil-rich land. It attracts thousands of workers due to high wages, as even those without college degrees can make up to $100,000 annually working in this industry. However, their living situations aren't much better than a college dorm.
Across the basin, real estate developers have built "man camps" ranging from 300-500 beds. While an apartment can cost over $1,000 a month to rent and a single night at a hotel can cost nearly $500, these man camps offer workers a bed for around $50 a night. But due to the rural locations, the residents eventually become bored and stressed, often turning to drugs and alcohol. 
"They come into work, they're usually away from their families, they're cooped up and working long hours," Cisneros said. "They don't have money or food stress, but they have a lot of relational stress. The way they cope is drinking with each other, drugs; all kinds of things are surfacing."
In August of 2019, Cisneros officially started the Permian Oil Basin and Energy Ministry. Cisneros and a group of volunteers started visiting the camps, offering pizza and Bible studies while building relationships with them. 
"We had a couple of concerts," Cisneros said. "We had a Super Bowl party, which was really good. We were able to give a quick message at halftime. A lot of the guys there dropped their beers when I started sharing the Word with them and came up to me later and we just began talking. And it was that kind of relationship that we're trying to build, hoping that as we build this relationship with them, that we can speak hope, truth, and peace into their lives and their circumstances."
When the COVID-19 pandemic began just weeks after that Super Bowl party, many of the RV parks and man camps emptied out. People had been laid off, and Cisneros and his team were not quite sure what God had for them next. The group eventually connected with Nazarene Compassionate Ministries to obtain funds for a mobile medical center. 
"We go into what remains of the man camps and different areas of town and offer wellness visits because if they're laid off, they probably don't have insurance and access to medical care," Cisneros said. 
They also partnered with a food bank to distribute food boxes to the communities.
"We'd call a church and say, 'Hey, this is what we want to do. Can we help you minister to your community?'" Cisneros said. "The first [distribution] was really small but we were able to minister to maybe 30 or 40 families with 50 boxes of food."
Since their first effort in May, they were able to serve an estimated 3,412 people (nearly 1,000 families) by passing out 1,472 boxes of food across five different cities through the end of 2020. During registration for the distribution, they would include an offer for prayer as well as Bibles and devotional books. More than 40 people made decisions for Christ through these efforts.
"That's where we're seeing the breakthrough," Cisneros said. "People are here for food, but they're really seeing God move. We've had people come back and say, 'We're not here for the food, we just came for the prayer.'"