Missouri church experiences rapid growth by adding Micronesian services
by
| 05 Aug 2022
圖片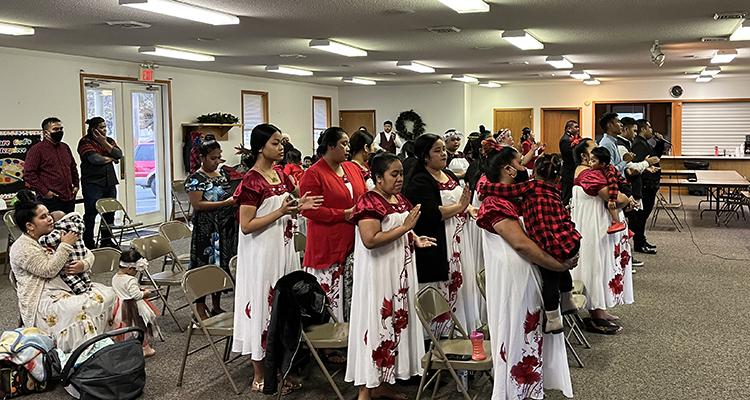 Pastor Clark Armstrong noticed a man walking by his office window at Marshall Church of the Nazarene, nearly every day at the same exact time.
Armstrong decided to strike up a conversation with the man, not knowing where it would lead. More than one year later, Marshall Church of the Nazarene now has two flourishing congregations of Micronesian people from Chuuk and Pohnpei.
The Chuukese congregation is led by Pastor Jonathan Marar, and the Pohnpeian congregation is led by Lou Reyes. Reyes is a former student of Armstrong, who previously served as a missionary and educator at Asia-Pacific Nazarene Theological Seminary. Armstrong returned to the United States to pastor in 2019, when he started serving the Marshall Church.
"We still automatically have missions training, missions mentality, and a missions heart," Armstrong said. "So, upon arriving here, we were constantly looking around for what the missions field looked like, where the reachable people are, and what is the greatest need for those who don't even know the Lord yet."
That training caused him to notice the man walking past his window, Nick Hallens. As the two talked, Armstrong learned that Hallens and his girlfriend of 14 years, Lori, had a 12-year-old daughter. The couple wanted to get married and have a wedding but lacked the funds to do so.
Nick is one of many Micronesian immigrants in Marshall, who make up nearly 10 percent of the town's 10,000 residents. Most of them work in factories and food processing plants to make ends meet.
Nick and Lori began attending Marshall Church of the Nazarene and became Christians. As Armstrong continued to talk with them about marriage, he offered to hold the wedding at the church free of charge.
Nick and Lori packed the sanctuary with friends and family members for their wedding on 14 March 2021. Immediately after Armstrong pronounced them husband and wife, Nick and Lori walked to the baptismal and were baptized in their wedding clothes, proclaiming their new lives in Jesus Christ together as a married couple.
"It was a great joy in their lives to be able to say they were starting this marriage and building it on Jesus Christ," Armstrong said.
The celebration that followed opened up Armstrong's eyes to a new community, and six months later, he hired Reyes to lead a Micronesian service. As church leaders began to realize there were two main languages and groups, they made two separate services.
Both congregations have grown significantly. The Chuukese congregation averages 45-50 people each Sunday, and Reyes leads around 20 every Sunday for the Pohnpeian church. In 2022, the congregations were able to send delegates to District Assembly and become officially organized Churches of the Nazarene.
Reyes credited the welcoming and small-town nature of the church for the three congregations' unity and quick growth.
"I think that's what made [the Micronesians] feel like they're part of this church," Reyes said. "Even though we have our own services, all three of our churches are one."
On Easter Sunday 2021, there were just 65 people in attendance for Marshall's lone English service. In 2022, Easter attendance nearly tripled to 180 with all three congregations combined.
"I feel like we did very little except just cooperate with the Holy Spirit," Armstrong said.