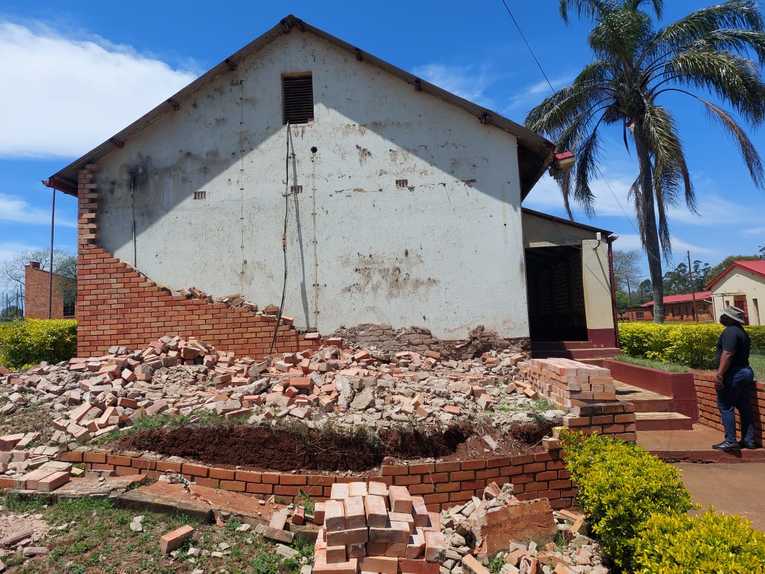 SANU-Siteki School of Theology Facility Upgrades
Giving Code: 137619
Region: Africa
Area: Africa
COST (USD$): 365,065
Description:
Theological education in Southern Africa has a rich history stretching back to 1915. What is now called the Southern Africa Nazarene University (SANU) in Eswatini is the oldest ministerial college of the Church of the Nazarene in mainland Africa. From the beginning, it provided ministerial preparation for a diverse community, which attracted various denominations and international students from Mozambique, the Republic of South Africa, Malawi, Zimbabwe, Zambia, and Kenya. For the past 89 years, it has occupied its present location, providing education and training to men and women for service to God and to the people of the Kingdom.
Updates to the campus in the 1980s and 1990s included the residence halls and chapel, among other additions. Since 2000, though, there have been only minor updates, leaving multiple parts of the campus in great need of updating and repair to bring them to standards to support modern education.  The residential units in particular are in an unacceptable state and are not conducive to the high quality of training that is the vision of the Siteki School of Theology.  
This project will support an ambitious updating plan that includes:
Bringing educational buildings up to modern standards to optimize learning
Updating IT infrastructure
Upgrading residential buildings
Updating campus security measures, including adding fencing
Campus beautification projects, including landscaping and repair of the existing arch
On campus gathering of students at the Siteki School Of Theology at SANU with qualified professors and other students is a formula for lifelong mentoring, peer mentoring, and the development of a community of congregational leaders who know and support the work of the local church. Bringing the gospel to the people is not for the faint of heart. It takes a community of leaders for the work of the great commission to be dynamically supported. Providing a well-equipped home base for education and mentoring will be key in deploying the next generation of pastors, evangelists and missionaries from southern Africa.
Click "donate now" to support this necessary work!
Would you like to help in other ways? Consider supporting student scholarships through the Student Scholarship Project or bringing a short-term team to get your hands dirty! We know God is calling believers from across the Africa Region to preach the gospel. Will you help prepare them to lead?                                                                                        
Make A Donation




WYSIWYG Content
Donate by Check:
In the US:
Make checks payable to General Treasurer and send them to:
Global Treasury Services
Church of the Nazarene
P.O. Box 843116
Kansas City, MO 64184-3116
In Canada:
Make Checks payable Church of the Nazarene Canada and send them to:
Church of the Nazarene Canada
3657 Ponytrail Drive
Mississauga, Ontario L4X 1W5.
Be sure to put 137619 in the Memo area. Thanks for your donation.