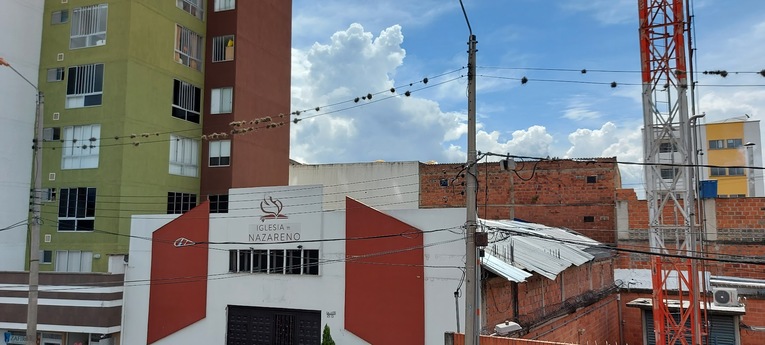 Construcción Final del Templo de Girón
Giving Code: 137321
Region: South America
Area: South America
COST (USD$): 46,750
Description:
The Gloria Postrera Church of the Nazarene in Giron, Colombia, purchased property in 2013. In the intervening years they have slowly built their church building. The 240 members of the church have supported the ministry and the construction efforts financially without help from outside donors.
The area around the church building has been in a time of development, and recently a tall apartment building was built next door. This change has brought about an urgent need to complete the second floor of the church building.
There are multiple concerns that would be met by completing the second floor.
The children currently meet in the parking lot for their Sunday School time for lack of another space. It is not an area that was designed for children's ministry, meaning it lacks the basic security features necessary to care for the children well. A second floor would allow the children's ministry to move indoors where they could run and play without concern for cars or people walking by.
The sound generated by the church during worship services is bothering the neighbors, which could cause further legal issues if it is not addressed. Normal sound proofing is a part of the plan for final construction of the second floor.
The roof has multiple leaks, which endangers the entire electrical system of the church building below. The majority of the panels for the temporary roof over the first floor have been in place for over 5 years. Though the church has worked to replace those in the worst state, the panels have reached the end of their use.
The church estimates that it will cost a total of $64,000 to complete the second floor. The members of the Gloria Postrera church have committed to support a significant portion of the cost. They are seeking support from other financial partners to fund the final $46,000.
Will you join to help meet this urgent need? Click "donate now" to help the Gloria Postrera church complete their building project.    
Make A Donation




WYSIWYG Content
Donate by Check:
In the US:
Make checks payable to General Treasurer and send them to:
Global Treasury Services
Church of the Nazarene
P.O. Box 843116
Kansas City, MO 64184-3116
In Canada:
Make Checks payable Church of the Nazarene Canada and send them to:
Church of the Nazarene Canada
3657 Ponytrail Drive
Mississauga, Ontario L4X 1W5.
Be sure to put 137321 in the Memo area. Thanks for your donation.