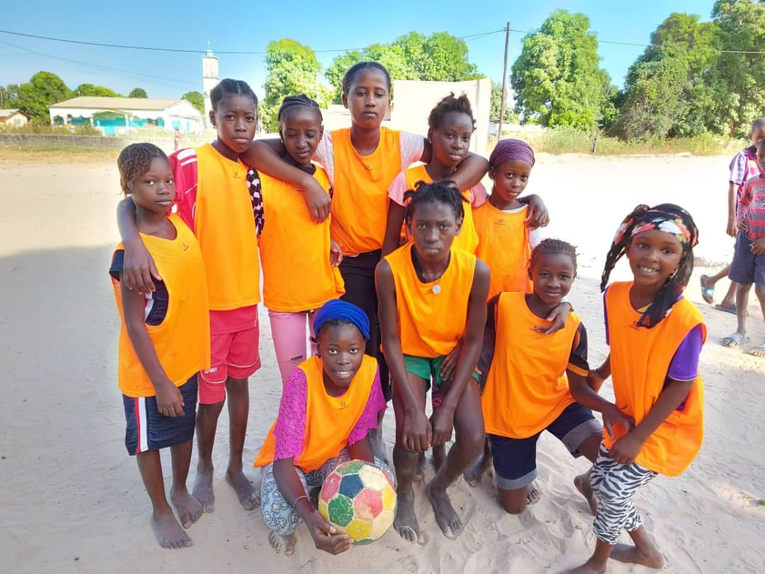 Senegal-Ziguinchor-Maison De La Délivrance
Giving Code: 137140
Region: Africa
Area: Africa
COST (USD$): 25,225
Description:
français ci-dessous
The Maison de la Délivrance (House of Deliverance) mission church is one of the most dynamic of the Church of the Nazarene in the Ziguinchor area with adults, young people and many children who sit on the floor for lack of space. This church seeks to truly be a place where people in this area, which is famous for growing wood with "mystical" properties, find hope and freedom in Christ. The church currently meets in the rented home of a missionary couple, which has rapidly become too small to accommodate the growing congregation.

Many activities take place where the church meets: sewing lessons, music, karate sessions, and training for leaders and pastors. This is also a church in a strategically central location, and it serves as the home base for 3 other preaching points and two football clubs.

Leaders have found a well-placed piece of land on two main streets, where there is already a rough structure. The district intends to team with the congregation to acquire the space. The project is to purchase the property and build a church building, pastoral house, and potentially a guest house, which would serve as a source of income. Leaders in Senegal believe that, with the Lord's help, this could eventually serve as the center for a new district in this beautiful country.

Church members dream of the ways they could minister and serve their community with more space. They expect to see dramatic church growth, quadrupling the current attendance. They foresee extra space for sewing, music and karate along with pastoral and leader training and development. This church will be a launching point for new preaching points and church plants in the area.
With a parsonage, the church will be able to invite a pastoral family to serve the church, freeing the missionaries to continue the pioneering work across the area.
Will you join in the work of the House of Deliverance? Click "donate now" to support their efforts to purchase and renovate the space they need to serve in the ways God is calling them!
 
L'église de la mission Maison de la Délivrance est l'une des plus dynamiques de l'Église du Nazaréen de la région de Ziguinchor avec des adultes, des jeunes et de nombreux enfants assis par terre faute de place. Cette église cherche à être vraiment un lieu où les habitants de cette région, célèbre pour la culture du bois aux propriétés «mystiques», trouvent l'espoir et la liberté en Christ. L'église se réunit actuellement dans la maison louée d'un couple de missionnaires, qui est rapidement devenue trop petite pour accueillir la congrégation grandissante.

De nombreuses activités ont lieu là où l'église se réunit : cours de couture, musique, séances de karaté et formation pour les dirigeants et les pasteurs. C'est aussi une église dans un emplacement stratégiquement central, et elle sert de base à 3 autres points de prédication et à deux clubs de football.

Les dirigeants ont trouvé un terrain bien placé sur deux rues principales, où il y a déjà une structure grossière. Le district a l'intention de faire équipe avec la congrégation pour acquérir l'espace. Le projet consiste à acheter la propriété et à construire une église, une maison pastorale et éventuellement une maison d'hôtes, qui servirait de source de revenus. Les dirigeants du Sénégal croient qu'avec l'aide du Seigneur, cela pourrait éventuellement servir de centre pour un nouveau district dans ce beau pays.

Les membres d'église rêvent de la manière dont ils pourraient servir et servir leur communauté avec plus d'espace. Ils s'attendent à voir une croissance spectaculaire de l'église, quadruplant la fréquentation actuelle. Ils prévoient un espace supplémentaire pour la couture, la musique et le karaté ainsi que la formation et le développement des pastoraux et des leaders. Cette église sera un point de départ pour de nouveaux points de prédication et implantations d'églises dans la région.

Avec un presbytère, l'église pourra inviter une famille pastorale à servir l'église, libérant ainsi les missionnaires pour continuer le travail de pionnier dans la région.

Participerez-vous au travail de la Maison de la Délivrance ? Cliquez sur "faire un don maintenant" pour soutenir leurs efforts pour acheter et rénover l'espace dont ils ont besoin pour servir de la manière dont Dieu les appelle !
Make A Donation




WYSIWYG Content
Donate by Check:
In the US:
Make checks payable to General Treasurer and send them to:
Global Treasury Services
Church of the Nazarene
P.O. Box 843116
Kansas City, MO 64184-3116
In Canada:
Make Checks payable Church of the Nazarene Canada and send them to:
Church of the Nazarene Canada
3657 Ponytrail Drive
Mississauga, Ontario L4X 1W5.
Be sure to put 137140 in the Memo area. Thanks for your donation.