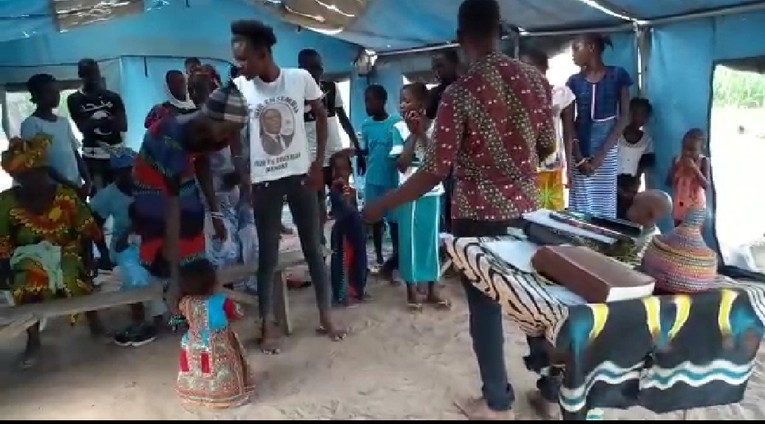 LA TENTE DE LA RENCONTRE- CONSTRUCTION D'UNE ÉGLISE À NDOFFANE
Giving Code: 137155
Region: Africa
Area: Africa
COST (USD$): 17,730
Description:
français ci-dessous
The church in Ndoffane began under a tree with a children's club and evangelism activities. After the church outgrew the tree, they found a slightly larger place to meet. For three years, a tent that used to cover agricultural equipment has sheltered the young church from the blazing sun. The structure has served its purpose, but it has also been an obstacle to gaining new members, in part because the plastic tent traps the heat and makes it stifling inside. The plastic has deteriorated significantly, and the church has been working towards building a permanent structure.

As the Lord continued to open doors, the church was able to acquire land, and the people began make bricks and buy cement. They have been motivated by their collective work to contribute financially and with their labor, even with limited financial resources. The people are determined to see a church building as a banner of Christ in their village.

The Ndoffane church foresees many benefits from a permanent building. It will serve not only as a safe, comfortable place to hold worship services and various discipleship activities, but will also serve as a training and equipment base for the local mission in evangelization and church planting.

A new building will provide more than a place to worship away from the heat. It will demonstrate to the community that the church has no intention of leaving. It is committed to being part of the community and building a better future together.
Will you join in the work of this motivated congregation by giving to support their new construction?

Exterior concept image                                      Interior concept image



L'église de Ndoffane a commencé sous un arbre avec un club pour enfants et des activités d'évangélisation. Après que l'église ait dépassé l'arbre, ils ont trouvé un endroit légèrement plus grand pour se rencontrer. Depuis trois ans, une tente qui abritait autrefois du matériel agricole a abrité la jeune église du soleil de plomb. La structure a atteint son objectif, mais elle a également été un obstacle pour gagner de nouveaux membres, en partie parce que la tente en plastique emprisonne la chaleur et la rend étouffante à l'intérieur. Le plastique s'est considérablement détérioré et l'église travaille à la construction d'une structure permanente.

Alors que le Seigneur continuait d'ouvrir des portes, l'église a pu acquérir des terres et les gens ont commencé à fabriquer des briques et à acheter du ciment. Ils ont été motivés par leur travail collectif à contribuer financièrement et avec leur travail, même avec des ressources financières limitées. Les gens sont déterminés à voir un bâtiment d'église comme une bannière du Christ dans leur village.

L'église de Ndoffane prévoit de nombreux avantages d'un bâtiment permanent. Il servira non seulement de lieu sûr et confortable pour organiser des cultes et diverses activités de discipulat, mais servira également de base de formation et d'équipement pour la mission locale d'évangélisation et d'implantation d'églises.

Un nouveau bâtiment offrira plus qu'un lieu de culte à l'abri de la chaleur. Cela démontrera à la communauté que l'église n'a pas l'intention de partir. Elle s'engage à faire partie de la communauté et à construire ensemble un avenir meilleur.

Vous joindrez-vous au travail de cette congrégation motivée en donnant pour soutenir leur nouvelle construction?
Make A Donation




WYSIWYG Content
Donate by Check:
In the US:
Make checks payable to General Treasurer and send them to:
Global Treasury Services
Church of the Nazarene
P.O. Box 843116
Kansas City, MO 64184-3116
In Canada:
Make Checks payable Church of the Nazarene Canada and send them to:
Church of the Nazarene Canada
3657 Ponytrail Drive
Mississauga, Ontario L4X 1W5.
Be sure to put 137155 in the Memo area. Thanks for your donation.