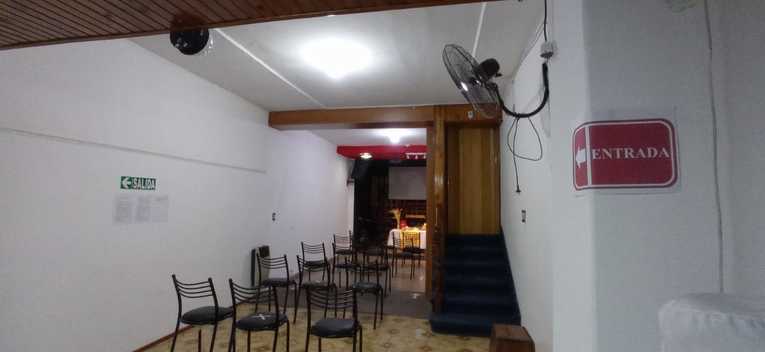 Iglesia Puerta Abierta - Córdoba
Giving Code: 136818
Region: South America
Area: South America
COST (USD$): 5,400
Description:
Extension of the Church Building and Community Picnic Area - Córdoba / Argentina

Both of these projects are to modify the facilities of the Iglesia Puerta Abierta (Open Door Church) to help this congregation live up to its welcoming name. 

In the Alta Córdoba area, there is no community picnic area. Through the development of this project, we would share the love of God through compassionate ministries. An updated space would allow this church to share a meal with those in need while interacting socially and spiritually with those who come to eat.  This project would impact the entire community of Alta Córdoba.

By expanding the church building as part of this project, we could receive people with needs as well as outreach teams who would like to provide their support. This would allow us to develop not only local growth but we could also implement this model to be able to carry it out with other churches as well. This movement would also provide growth on a district level, following the model of the Great Commission that our Lord Jesus Christ taught us; "Go and preach the gospel to every creature".

The church building expansion is necessary since it is located in a strategic place near the airport, bus and rail terminals, but does not have enough space to host traveling missionaries, pastors and leaders. 

Click "donate now" to help the Iglesia Puerta Abierta open their doors a little wider!

Español

Ampliación del Templo y Merendero Social - Córdoba/Argentina
Ambos proyectos tienen como objetivo modificar las instalaciones de la Iglesia Puerta Abierta para ayudar a esta congregación a hacer honor a su nombre de bienvenida.
En la zona de Alta Córdoba no existe un merendero social donde al desarrollar este proyecto quisiéramos desarrollar el amor de Dios a través de la compasión donde estaríamos llevando una comida a las personas con mayor necesidad y poder llevar una respuesta social, espiritual a los más necesitados y de esa forma poder impactar la comunidad de Alta Córdoba. 
Al ampliar la iglesia como parte de este proyecto podríamos recibir a las personas con necesidades y también a los equipos de testimonio que quisieran brindar su apoyo y de esa forma desarrollaríamos un crecimiento no solo local sino también podríamos implementar este modelo para poder realizarlo también con otras iglesias y por lo tanto crecer también a nivel distrital, siguiendo el modelo de la gran comisión que nos enseñó nuestro señor Jesucristo id y predicad el evangelio a toda criatura…. 
Necesitamos tener un espacio físico adecuado para poder recibir aquellos, misioneros, pastores, lideres ya que la iglesia se encuentra en un lugar estratégico de Córdoba capital (Cerca del aeropuerto, terminal de ómnibus, terminal de ferrocarril).
Haga clic en "donate now" para ayudar la Iglesia Puerta Abierta abrir las puertas aun mas!
Make A Donation




WYSIWYG Content
Donate by Check:
In the US:
Make checks payable to General Treasurer and send them to:
Global Treasury Services
Church of the Nazarene
P.O. Box 843116
Kansas City, MO 64184-3116
In Canada:
Make Checks payable Church of the Nazarene Canada and send them to:
Church of the Nazarene Canada
3657 Ponytrail Drive
Mississauga, Ontario L4X 1W5.
Be sure to put 136818 in the Memo area. Thanks for your donation.