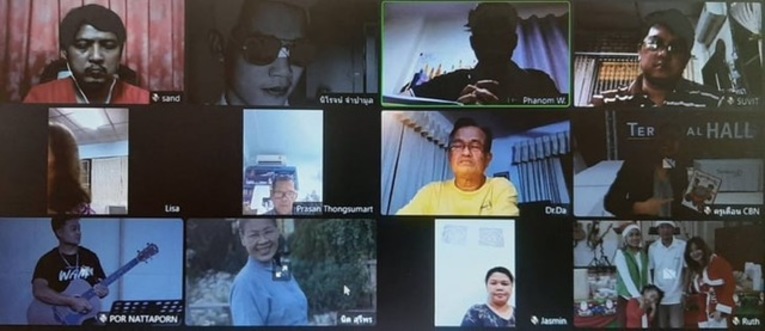 SEA: Technology Approved Project
Giving Code: 136613
Region: Asia-Pacific
Area: Asia-Pacific
COST (USD$): 10,200
Description:

Once upon a time in the city of Bangkok, Thailand there was a small, but committed group of Christians. This group of believers met every weekend and during the week for worship, prayer, teaching, fellowship, and encouragement. They were learning and growing together, serving their community, and reaching out in love.  In March of 2020, a global pandemic disrupted lives and communities all over the world.  Bangkok First Church of the Nazarene was no exception.  
Previously, this community-focused church had a weekly attendance of around fifty people. Government regulations confined people to their homes and limited gatherings to no more than 15 people.  But like many congregations, the Bangkok First Church family found a continued connection through technology.  What they discovered, however, was that rather than hindering their outreach ability, the pandemic uncovered a new, effective way to reach those seeking God. When they added online services, their numbers grew to approximately two hundred participants. In an area where Buddhism is dominant, services like these can provide the first step to learning about Jesus. 
What Bangkok First Church experienced is not unique.  All over the world, the Church is reaching increasing numbers through the use of technology.  What is unique in this part of the world is that Bangkok First already possessed the equipment and knowledge necessary to record and broadcast its services.  
As the developed world is beginning to open up, much of Southeast Asia is still under heavy restrictions regarding group gatherings.  Many believers are simply isolated in their homes. Because we value the ability of each church to worship and fellowship together, and because we believe that the Body of Christ is called to share the gospel now more than ever, we want to help bring technology to our churches.
Live Streaming church services on Facebook, YouTube, or other social media sites have become ways for churches to stay connected, connect to believers in other areas, disciple believers, and share the gospel of Jesus with those who are seeking. When churches livestream, they often see people from different areas of the world participating. Through online services, some churches are impacting hundreds of viewers well beyond their local community. 
Because of the Covid pandemic, many churches would like to put their services online so they can share sermons and Biblical teaching with others both near and far. To do this, they need equipment and training.
In addition to online worship services, districts in SE Asia would like to create websites as central hubs for information.  Websites can host videos of sermons from their district or classes from Chapman International College. They can also be a repository for electronic books. A district website can be a key connection for information.
We are calling on those blessed with resources to extend those blessings to churches in Southeast Asia so that everyone can receive the blessings of salvation and the Christian Community.  Will you be a blessing?
Online worship tools: $1,000 USD
3 Learning Hubs: $1,800 USD each = $5,400 USD
3 CIT IT upgraded centers: $1,600 USD each =4,800 USD
TOTAL PROJECT COST: 10,200 USD
Make A Donation




WYSIWYG Content
Donate by Check:
In the US:
Make checks payable to General Treasurer and send them to:
Global Treasury Services
Church of the Nazarene
P.O. Box 843116
Kansas City, MO 64184-3116
In Canada:
Make Checks payable Church of the Nazarene Canada and send them to:
Church of the Nazarene Canada
3657 Ponytrail Drive
Mississauga, Ontario L4X 1W5.
Be sure to put 136613 in the Memo area. Thanks for your donation.