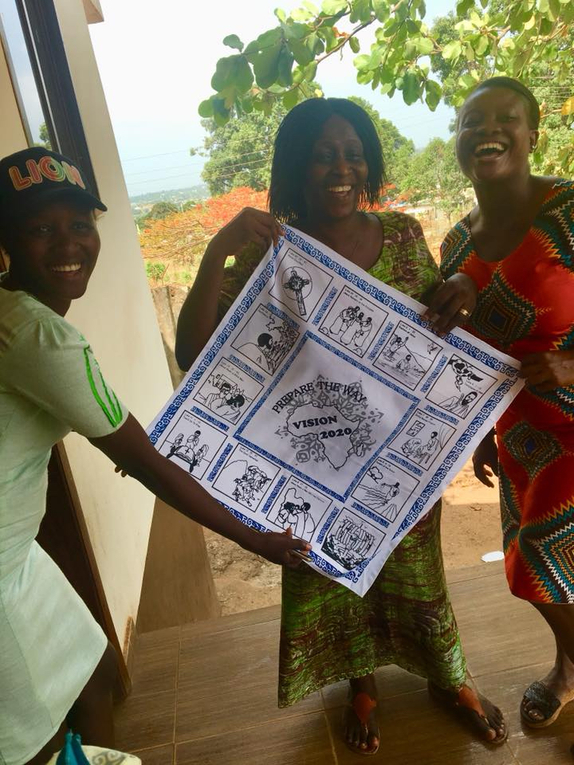 Bible Story Scarves for Africa
Giving Code: 134289
Region: Africa
Area: Africa
COST (USD$): 13,500
Description:
The Story Scarf Vision - Telling the Stories of Jesus with your Neighbor
Imagine if you did not know how to read the Bible because it was not in your native language or you never had an opportunity to learn to read. How would you come to know the truths about the Bible? Many people in Africa today are in this very situation. They want to know and learn about the Bible, but no one has explained it to them in their own language. Now imagine that you have an image of a story from the Bible, and someone tells you a story that can change your life. Suddenly, a new world of hearing and speaking the truths of the Bible becomes so much more real.

This is what is happening with the development of the Story Scarf!  The Story Scarf has the images of 12 stories from the life of Christ, and as a new Christian comes to know Christ, the 12 powerful stories from the scarf are used to teach them about the character of Jesus. As they learn these stories and how to tell them, we see men and women, boys and girls memorizing the stories of the Bible and sharing these truths with others. Our goal is to have one million disciples of Christ in the Nazarene church in Africa by the year 2020. To do so, we know it will take everyone sharing their faith. This simple tool is revolutionizing the way people share the good news with others by giving everyone a way to be involved in evangelism.

We hope to distribute these story scarfs to more than 5,000 people in more than 20 countries of Africa. The cost is only about $3 USD each, yet the impact to changed lives is priceless. For more information contact Tim Eby at teby@africanazarene.org. Thanks for your support, and we trust God will use your gifts to spread his Word to every tribe and tongue that have not yet heard of the great love of Christ.
Make A Donation




WYSIWYG Content
Donate by Check:
In the US:
Make checks payable to General Treasurer and send them to:
Global Treasury Services
Church of the Nazarene
P.O. Box 843116
Kansas City, MO 64184-3116
In Canada:
Make Checks payable Church of the Nazarene Canada and send them to:
Church of the Nazarene Canada
3657 Ponytrail Drive
Mississauga, Ontario L4X 1W5.
Be sure to put 134289 in the Memo area. Thanks for your donation.