Ukrainian Nazarenes persevere despite challenges
by
| 11 Mar 2022
Image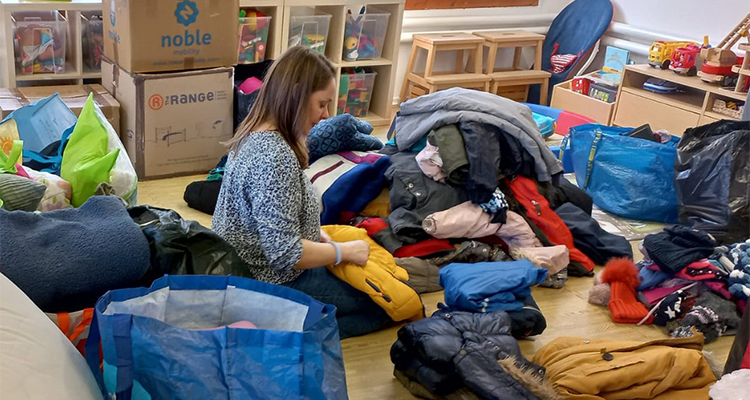 Violence in Ukraine continues to escalate as Russian attacks increasingly impact the civilian population. The number of Ukrainians who have fled the country now exceeds two million. Many describe the struggles they face, either within Ukraine or as they flee the country. Amid such crisis and uncertainty, Nazarene workers continue to serve the people around them.
As the majority of men ages 18-60 remain in the country, women bear the burden of migration, caring for young and old alike. Vulnerable to trafficking and other forms of exploitation, mothers are working to keep both them and their children safe. "These Ukrainian women are literally and single-handedly rescuing a generation out of a war zone with true grit," reads a social media post by the Church of the Nazarene Eurasia Region. "It is these women who are getting it done."
Ukrainian Nazarenes seeking to serve within the country reveal how war robs them of the resources that offer a sense of normalcy. When Pastor Andriy in Kyiv searched for medicine for a friend with a heart condition, he found the one pharmacy still open in town lacked what his friend needed. "You have such days of complete disappointment when you are sincerely trying to do something, trying to help someone," says Andriy, "But all the circumstances are against you."
Pastor Volodymyr—the District Superintendent of Ukraine—and his wife Sylvia are traveling while caring for three senior adult women. Their journey is slow as they help the babushkis—grandmothers—walk, eat, and dress; they knew they could not remain in a city under siege. Sylvia expressed conflicted feelings after leaving the bomb shelter where they lived for ten days. 
"Last night, I had 8 hours of sleep," she says. "Today was the first day I didn't hear sirens. Today was the first day I had 3 meals in a while. Tonight, I will sleep in a warm bed." 
Meanwhile, she remembers others who struggled to find transportation out of the city.
In spite of numerous challenges, Nazarene missionaries, pastors, and laypeople continue to create paths of hope for people displaced by war. Chad and Crystal Gibbons, missionaries to Kyiv, helped sort and pack relief items for Ukrainian refugees fleeing to Moldova.
A Church of the Nazarene in Bucharest, Romania, has accommodated travelers continuously since the early days of the invasion. Nazarene workers in Poznan, Poland, are turning a ministry space that once served as a coffee shop into a multipurpose center for Ukrainians seeking refuge in the country. Workers at the center celebrated the safe arrival of seven Nazarenes—three women and four children—to their facility. One worker at the ministry center located downloadable books in the Ukrainian language for children who had to leave behind all their possessions. 
Moved with compassion, Nazarenes from around the world continue to express support for Ukrainians who are displaced by the war. Gracie, 7, attends the Church of the Nazarene in Bolton, United Kingdom. She has been saving money all year for a family vacation but decided to give it away when she heard about the Nazarene Compassionate Ministries offering for Ukraine. Gracie took her savings to church, explaining to her mother, "the people of Ukraine need this money more than [I do]."
Please pray for people experiencing firsthand the crisis in Eastern Europe. Pray for those seeking shelter within Ukraine, those relocating to other countries, and those grieving the losses they have already suffered. Pray for those who are most vulnerable, including children, senior adults, individuals with disabilities, and those with health conditions who need medication. Pray for church leaders and churches responding to the needs around them. Ultimately, let us pray for peace. To send a prayer or note of encouragement, go to ncm.org/pray.
Churches and individuals around the world can provide support through the NCM Ukraine Crisis Response Fund – Eurasia Region. Donations will go toward emergency support associated with transportation, shelter, food, water, and essential supplies. To support churches as they care for people within Ukraine and those traveling from Ukraine to neighboring countries, give today: ncm.org/Ukraine.
Local Nazarene churches can give at fundingthemission.org. Use the "Write-In" contribution option and enter 137043 in the memo line.
To send donations by mail:
In the U.S., make checks payable to "General Treasurer" and send them to: 
Global Treasury Services

Church of the Nazarene

P.O. Box 843116

Kansas City, MO 64184-3116

Be sure to put 137043 in the Memo area.
In Canada, make checks payable to "Church of the Nazarene Canada" and send them to:
Church of the Nazarene Canada

3657 Ponytrail Drive, Mississauga, ON | L4X 1W5

Be sure to put 137043 in the Memo area.
For any other country, give through your local church or district, designating your gift to NCM Ukraine Crisis Response Fund – Eurasia Region.