Thailand ministry receives soccer equipment
by
| 14 Feb 2020
Image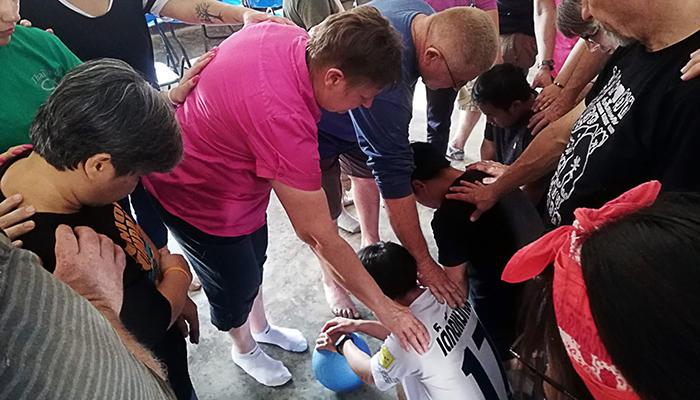 Katriel Nyman, a 13-year-old from the Grandview, Washington, Church of the Nazarene, recently traveled to Thailand for her first missions trip. She did not know much about Thailand, but she knew that they played soccer.  
"A lot of my friends play soccer and some of their dads and moms are coaches," Katriel said. "I thought I could find some old soccer cleats and maybe find some money from different people that would like to support me in getting a few pairs."
Katriel started a fundraising page and talked to friends and family. By the time she arrived in Thailand, she had three large suitcases full of shin guards, cleats, socks, and unpoppable soccer balls. Katriel was able to present the soccer equipment to a local leader, Pastor Charon. 
"[The kids] were all super excited and they were putting on their shin guards and their socks and started playing with the soccer balls outside," Katriel said.
Pastor Charon has a soccer ministry in Northern Thailand. He uses soccer as an outreach ministry for his village and other villages throughout Northern Thailand. Pastor Charon coaches several teams and is training other pastors to start ministries like his in their villages. 
What started out as a discussion with her family spread out to her friends, her church, and soon to many others. Her efforts then blessed Pastor Charon's village, who, through his ministry, can continue to minister in Northern Thailand through soccer.
"[When] they see new cleats, shin guards, and soccer balls, they can use them and see that these are a gift from people who love them," Katriel said. "And they would ask the question, 'Why would they love [us]? Why would someone else care about me?' Maybe it will lead them to the answer, 'Because God originally loved us.'"
Steve Barber, communications coordinator for the Southeast Asia Field, said the equipment is a "tremendous help."
"Can one person really make a difference? This is a common question, and Katriel Nyman is a great answer," he said.