Sudanese congregations in America aim to be beacon of hope
by
| 02 Jul 2021
Image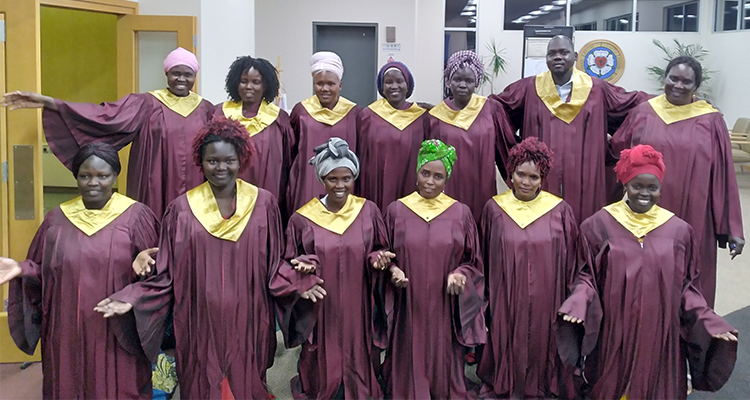 The Church of the Nazarene spread into the Sudanese population through refugee camps during the Sudanese Civil War. Today, many of those refugees have emigrated to the United States, bringing their hunger for evangelism with them.
Michael Gatkek has been the African Ministries coordinator for the USA/Canada Region since 2020. He is a Nuer refugee from South Sudan who spread the Nazarene message of holiness in refugee camps. When he came to the United States in 2000, he settled in Portland, Maine, where he helped establish the Southern Sudan Christian Mission Church of the Nazarene. Now a pastor in Texas, Gatkek has founded or helped establish multiple Sudanese congregations around the country.
Since he arrived in the U.S., Gatkek has been a proponent of planting congregations and churches where refugees can speak their native language. Many of the churches he's planted have come through connections with other Nuer people. This year alone, they've planted three new churches, including one that is currently the only Nazarene church in Mankato, Minnesota. They hope to plant five new churches every year.
While many Nuer language churches have been planted, Gatkek has also been intent on helping plant churches and install pastors from the Dinka tribe as well. Dinka and Nuer are the two largest tribes of South Sudan, and they regularly engage in conflict that leads people like Gatkek and many others to flee their native land.
[The Dinka and Nuer] are rivals," Gatkek said. "These are the people that are killing each other, but here we are finding a way to reach out to the Dinka community."
Currently, two pastors of Sudanese Nazarene churches in Texas are from the Dinka tribe. Gatkek hopes to eventually hold a national event to bring all of the South Sudanese congregations together in an event that would unite both Dinka and Nuer.
"I dream where they can come together to serve God and pray in different languages, [Nuer and Dinka], and get to know each other," Gatkek said. "It will mark what it means to be united in the presence of God, and it will send a fine message to the Sudanese community in general, seeing what the Lord is doing among us." 
Gatkek hopes that a united Sudanese church in America can help spread the message of hope and peace back to their homeland.
"We feel one day this group will be the group that goes back and preaches the message of hope, message of forgiveness, message of peace, and bring a consolation to the people of South Sudan," Gatkek said.