SENDAS rector meets with Costa Rica president
by | 06 Oct 2016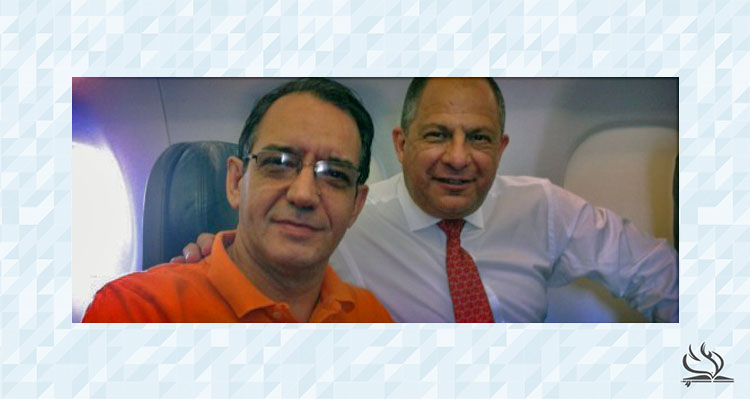 When Nazarene Seminary of the Americas (SENDAS) Rector Ruben Fernandez boarded a plane for Panama, he had no idea of the day ahead of him. Due to his many travels, Fernandez was upgraded to a seat in business class. Shortly after, he noticed some activity behind him. Someone who thought they had a business class ticket moved back to coach after being instructed to move by a flight attendant.
Fernandez realized the passenger was Costa Rica President Luis Guillermo Solis and immediately offered his seat to the president, now sitting in coach. After some convincing, Solis agreed to take the seat in business class.
Hours later, after changing planes at the Panama airport, Fernandez found himself in business class next to Solis for a two-hour flight to Cuba. In those two hours, Fernandez shared about Nazarene Essentials and Nazarene Seminary of the Americas. President Solis' family owns some farmland near the seminary, so he knew the location well. He invited Fernandez to visit the presidential house and Fernandez invited the Solis to visit SENDAS anytime.
"I was impressed to meet a very down to earth man with great love and genuine concern for his country," Fernandez said. "We talked about different matters related to national development. I thanked him for the way that Costa Rica received me and my family as Argentinian immigrants 21 years ago. He replied, 'Thank you for coming!' At the end of the conversation, I asked him, 'What are you going to do after being president?' He said, 'I am going back to the classroom. I have a leave of absence at the university. They are waiting for me.' Knowing that President Solis was a professor of political science at the University of Costa Rica, I asked him a final question: 'You are going to teach in a very different way now, aren't you?' 'Totally different!' he answered."