Relationship rekindled: A sponsorship story decades later
by | 04 Nov 2016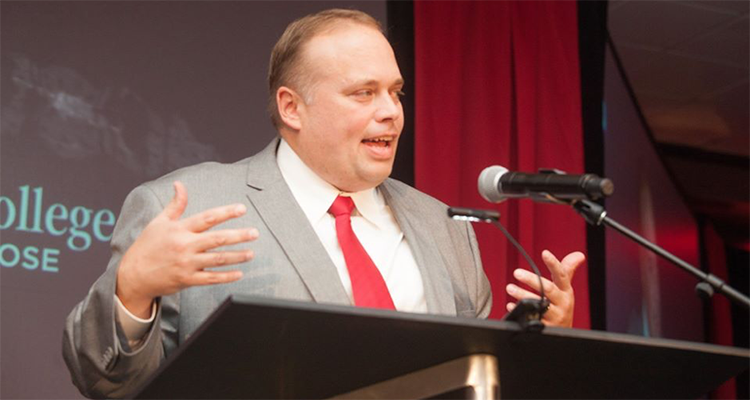 Sherwin Rulloda was in third grade when his sponsorship through Nazarene Compassionate Ministries Child Sponsorship started. Initially, a youth group helped fund his education, but after a year they couldn't continue. That's when Sherwin's relationship with a church in Tuscon, Arizona (USA), began.
Bettye and Jim Happeny were members of Catalina Vista Church of the Nazarene, a small congregation in Tuscon. When a group there joined together to sponsor children, they thought that sounded like a good idea.
"The church — it was a small church — banded together to sponsor a young man in the Philippines," Bettye says.
That young man was Sherwin. His father worked hard as a pastor and professor at what is now Philippine Nazarene College, but both were ministry positions that brought in little income.
"Even when my dad was teaching at the college, there were times we were kids when for lunch, for dinner, all we had was rice," Sherwin says. "We didn't have any other food. So my mom would sprinkle salt on the rice, and that's what we would have for our meal for the day."
Child sponsorship meant one thing the Rullodas didn't have to worry about was how to pay for education. Notebooks, pencils, uniforms, and anything else Sherwin and his siblings needed was covered through sponsorship. Their mother often reminded them to be thankful for the fact someone else was helping provide for them, and she encouraged them to give thanks in their prayers each night.
A lasting impact
It is easy to see that the schooling he pursued made an impact in Sherwin's life. In high school, he didn't want to follow in his father's footsteps. Whether he was considering pursuing a career in physical therapy or dentistry, the one thing he knew is he didn't want was to live on a pastor's salary.
"There were moments growing up when I thought, 'I don't want my kids to experience this,'" he says.
Thanks to sponsorship, Sherwin finished high school, but when it came time to apply for college, doors kept closing. The only one left open was at Luzon Nazarene Bible College, the former name of what is now Philippine Nazarene College. And there, he says, God truly captured his heart.
Later, Sherwin started seminary in the Philippines, but when his father was offered a pastoral position at a church in California (USA), he moved with his parents. After working as a youth pastor for three years, Sherwin moved to Kansas City, Missouri, to finish his degree at Nazarene Theological Seminary.
After several years of ministry, most recently as youth pastor at Marysville, Washington, Church of the Nazarene, Sherwin recently moved to Bremerton, Washington, with his family to serve as lead pastor at Bremerton Church of the Nazarene.
While Sherwin, the Happenys, and others from the Catalina Vista congregation sent letters back and forth, what Sherwin remembers most is a photograph the Happenys sent of themselves. When the Rullodas moved to the United States, his mother brought the photo. Maybe, she thought, they would have a chance to meet.
Sherwin wrote it off, though, sure that his sponsors had passed away by that point. After all, they started sponsoring him in the 1980s, and it was now nearly 30 years later.
Then, at Nazarene General Assembly in 2013, Sherwin had been asked to come onstage to share about NCM Child Sponsorship. What he didn't know is that the Happenys had also been invited, and they would meet for the first time that evening.
"It was pretty humbling to meet the people who helped get me an education," Sherwin says, "knowing they were the ones who shaped my education and made me what I am today."
After their initial meeting, they went to dinner together, where they each talked so much that they hardly touched the food they ordered. Since then, they have continued to stay in touch. Bettye and Jim regularly pray for Sherwin and his family, and they exchange photos back and forth.
Sherwin calls them his prayer warriors.
"This whole thing is a God thing," says Bettye. "If any of these pieces had been left out, we wouldn't even know Sherwin. And he would just think, 'Thank God for my sponsors who are in heaven.'"
The legacy continued
The Happenys continue to sponsor through NCM Child Sponsorship today. So do Sherwin and his wife, Megan. They've sponsored a boy from Nepal, now 14 years old, since he was 7.
"Child sponsorship has a big spot in our hearts because it changed me," Sherwin says. "If it's done that for me, why shouldn't it do that for another kid?"
Ultimately, Sherwin and Megan hope to sponsor children who are the same age as their three young daughters.
For the past decade, Bettye has served as the Nazarene Missions International president at Tucson Central Church of the Nazarene. During that time, the church has come together to sponsor 19 children.
"If you can do full sponsorship that's terrific, but don't say, 'I can't,'" Bettye encourages. "Just see who you can get on board to do it with you."
Sherwin's reconnection with the Jim and Bettye has inspired others to sponsor children as well. Of course, that inspiration is just a small part of the full story. Because of the commitment of the Happenys and their church family, Sherwin's parents didn't have to worry about how they would afford school, and through that education, God captured Sherwin's heart for ministry.
"The ripples in the water just keep going, and the blessing," Bettye says. "I can hardly even talk about it. It's just God's blessing in allowing this and being a part of this."
--Republished with permission from the Winter 2016 edition of NCM Magazine
Note: For information on the 2017 General Assembly, visit nazarene.org/ga.