Peru Nazarenes respond to flooded communities
by
| 11 Mar 2021
Image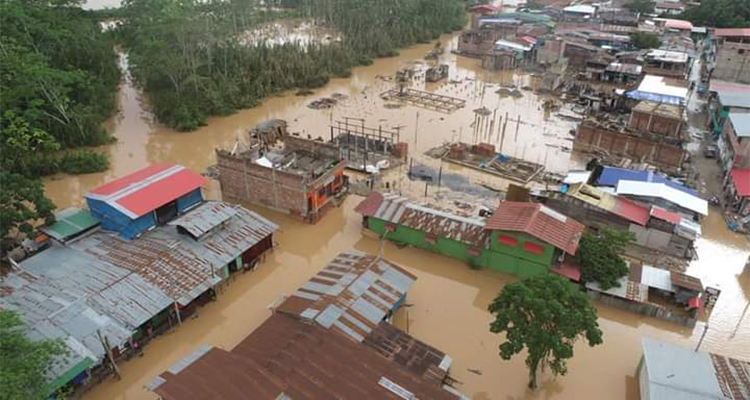 The Church of the Nazarene and Nazarene Compassionate Ministries responded to communities in the Madre de Rios region of Peru after torrential rains caused the Tambopata, Madre de Dios, and Inambari rivers to flood over 3,500 homes. 
Lila Ventura, who is in charge of a work in the town of El Triunfo, Peru, said that many of the families were trapped in their homes when the rivers flooded on 21 February. They were later rescued by boats and housed in schools, which have become temporary shelters.
Susana del Aguila, NCM coordinator for the Peru Sur (South) District, worked with the district superintendent to help the victims. An offering was taken among the churches of the district, and they also collected clothes and purchased supplies that were delivered to the church members in El Triunfo. Around 70 families in the El Triunfo neighborhood are being helped. 
Silvia Mantilla Clemente, a resident of El Triunfo, said that when the floods started, they did not know how to react because it happened so quickly and they were not prepared. She is hopeful they can overcome everything that has happened and thanks God that they are alive. In the neighborhood where she lives, they do not have drinking water or electricity, and the road that gives access to the neighborhood is destroyed.
Thousands like her are affected, many of whom have lost everything. The regional authority of Madre de Dios also reported that agricultural areas were hit very hard.
Celia Osorio Soto is a mother of six children. She said the situation was very unexpected, and she felt helpless when she saw her possessions floating away. 
"I took my children out and I lost my things," she said. "My house is a mess."
Both Mantilla and Osorio are very grateful to the church for the help they received. 
"I already have a little food to give to my children and thanks to all those who are supporting, I have a lot of hope." Osorio said. "With God's help, I know that all the families that have been affected are going to move forward."
Many needs such as clothes, sheets, mattresses, mosquito nets, and medicine are still unmet, but Ventura is optimistic and says that they will keep praying for God to touch hearts so provisions, including spiritual help, will continue to arrive. 
"Aid has impacted people's lives by showing that the Church of the Nazarene does care and is prepared to help in difficult times," Ventura said.