Paraguay South District reaches over 200 families through evangelism event
by
| 10 Sep 2021
Image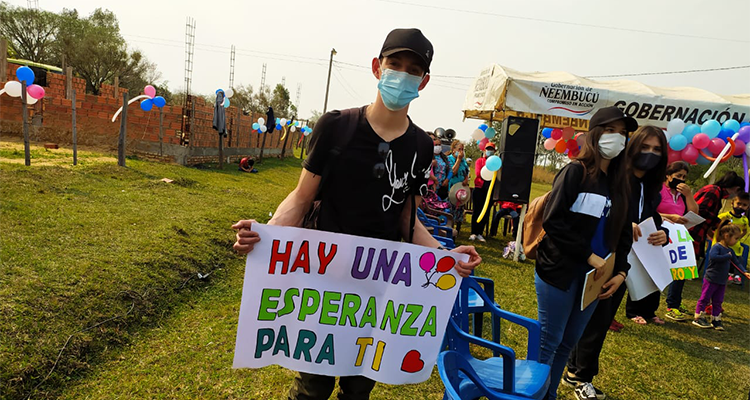 The Paraguay South District served over 200 families through a Manos de Amor (Hands of Love) event in the town of Isla Ro'y Villalbin on 21 August. For 12 hours, churches from Encarnación, Misiones, and Ñeembucú went out into the community to serve the people and teach the gospel.
The activities were set up by the churches' different ministries: evangelism, Nazarene Missions International, Sunday School and Discipleship Ministries International, Nazarene Youth International, Nazarene Compassionate Ministries, women's ministries, and communications. In the morning, the volunteers walked from house to house delivering gospel brochures and praying for the people's needs, as well as leading nearly 15 people to Christ. They then invited the community to the church property where more events took place.
Volunteers served lunch and had a special time for the community children, which included games, music, and a Bible lesson. Later in the evening, the compassionate ministries delivered clothes and shoes to the community and even offered hairdressing services. At the end of the day, they shared a gospel message with all who came.
At the moment, there is no organized church in Isla Ro'y. Currently, Rubén Vasquez and his wife, Silene, are beginning the work of the church in the village.
"They started to visit families house by house, and that's how [the church] was started," said Pablo Tello, Holistic Ministries coordinator for Paraguay.
The Vasquezes and the families they have connected with have been meeting in small groups. According to Tello, the church is in the process of constructing a building in the community. That project was made possible thanks to Alabaster funds.
"We give glory to God for the lives that were given to Christ," Tello said. "We pray for the seed that was planted in their hearts, that out of its fruit, many more people can come to know Christ."