Opening services highlights unity in diversity
by | 23 Jun 2017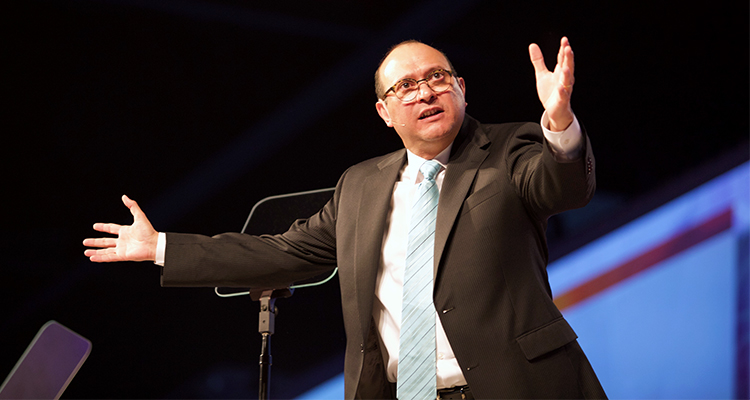 The Thursday night worship service began with pre-service music in Spanish from the Guatemalan group Qatrium. The orchestra also offered prelude music for the service. The service theme "One Body," was introduced with a video montage featuring Nazarenes from throughout the world sharing about unity.
General Superintendent Jerry D. Porter brought opening greetings, reminding the crowd of the importance of hospitality toward those who serve us this week. He introduced One Heart – Many Hands, a group of Nazarenes who have spent the week engaged in service projects throughout the community. 
Phillip Weatherill, global Nazarene Missions International president, greeted the congregation and introduced the NMI 100th anniversary video. Weatherill highlighted the fact that nearly 300 people per day come to Christ in the Church of the Nazarene worldwide. Global NMI Director Lola Brickey also greeted the assembly and introduced the much-anticipated march of the flags of the nations.
Ron Dalton led the congregation in prayer after the procession. Porter noted that all offerings received over the event goal of US$250,000 will be sent to assist Syrian refugees throughout the world. Porter also introduced General Superintendent Gustavo Crocker, who presented his message after Scripture readings from representatives of each of the denomination's six global regions and the song "We Will Stand."
Crocker's message was taken from I Corinthians 12:12-26, emphasizing the metaphor of "one body," citing that the Church is the embodiment of Jesus and Jesus' unity with the Father. Crocker emphasized that in the Church there is "unity in diversity," and in this diversity we find beauty and strength. Crocker specifically mentioned ways in which each region – Africa, Asia-Pacific, Eurasia, Mesoamerica, South America, and USA/Canada — contributes to the diverse beauty and strength of the Church of the Nazarene and its mission. Likewise, Crocker emphasized local congregations who have consistently given to strengthen the mission, while highlighting the importance of every member and every church consistently contributing what they can in time, giving, and other means of sacrifice to strengthen the whole Body of Christ.
Crocker gave moving stories from his own life and the lives of people throughout the world that highlighted the importance of being a consistently loving and connected body as the Church.
"The Church is a body that is concerned about the last, the least, and the lost," he said. "A global church suffers with those who suffer and rejoices with those who rejoice. We are one."
He repeated the "Ubuntu" philosophy of the African peoples: "We are; therefore, I am."
The service closed with an invitation to everyone to find someone from a different culture and generation, and pray together.
"This is your Church, Father," Crocker prayed. "Bring down any barrier that is between us."