Nebraska church offers safety amid historic flooding
by | 22 Mar 2019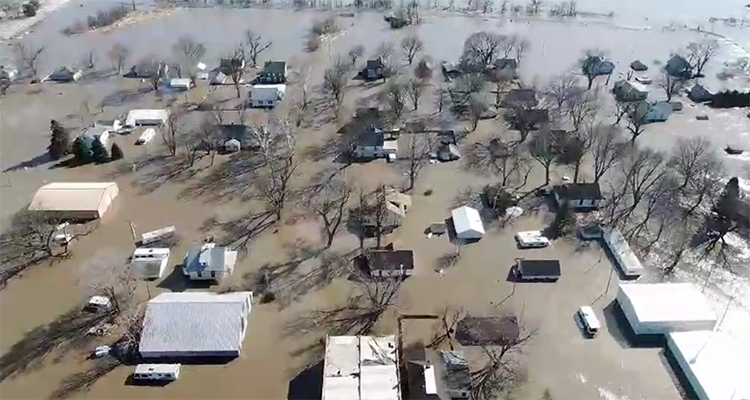 More than 10 million people were under a flood warning across the Midwest after a bomb cyclone* and warming temperatures led to historic flooding this week.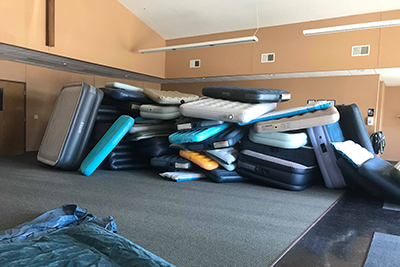 The rains and snow left damaging floods across Nebraska, Iowa, and sections of Missouri, South Dakota, Illinois, Minnesota, and Wisconsin. At least 30 levees breached in Missouri, Iowa, and Nebraska, according to the U.S. Army Corps of Engineers. 
Nebraska was one of the states that suffered most from the floods. The Nebraska governor called the aftermath "the most widespread destruction we have ever seen in our state's history."
Fremont Church of the Nazarene is supporting its community as they fight through the aftermath.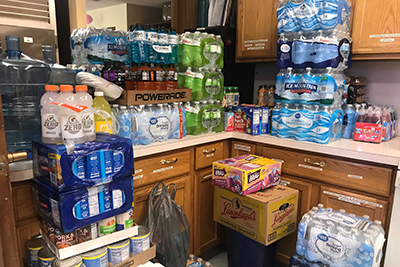 "We became a [short-term] shelter site on Friday but we were not sure exactly when they would need us," said Tyler Sparks, children's pastor at Fremont Church of the Nazarene. "We began prepping about 7 a.m. and opened around 10 or 11 a.m. I think there have been over 400 people in shelters, but there are more that are displaced and staying with family or friends."
Many fields and roads are completely submerged in water, and the local police have resorted to motorboats to traverse the terrain in place of cars. At least four people in Nebraska have died in the floodwaters, and one other is still missing. Thousands of homes and businesses were destroyed
"The historic flooding was in the making all winter long with a series of heavy snowfalls, culminating in last week's storm that dumped heavy rains onto the expansive snowpack and caused rapid melting," Rick Knabb, a hurricane expert at The Weather Channel told Newsweek. "The disaster will continue to unfold in slow motion for days as rivers rise some more and waters flow downstream."
Fremont and other towns in the surrounding area — including North Bend, Winslow, and Inglewood — experienced mass evacuation as the flooding worsened. The Fremont Church of the Nazarene and other local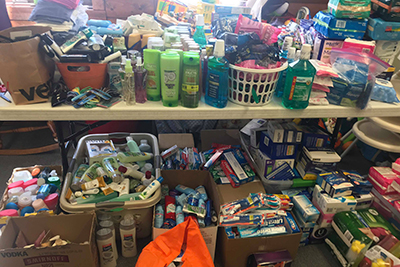 organizations responded to the emergency, opening up as shelters for those who have been displaced.
"We had over 300 volunteers at our shelter, and we had over 100 in our building for shelter or to receive donations," Sparks said. "This is going to be a long road of recovery. There are many outside organizations coming in now and are able to help with the relief, clean up, and rebuilding stages of this journey."
The devastation facing the community in Fremont has impacted everyone, even those whose homes and belongings were not damaged by the water.
"These people crying over the fact that they have lost everything, they have nowhere to go so they come into [the diner] and sit and cry because they have nothing," said Carri Nelsen, a server at a local diner and member at Fremont Church of the Nazarene. "[There are] children separated from their mothers and fathers, and some of my daughters' friends lost everything. I may not be personally affected, but my heart breaks for these people."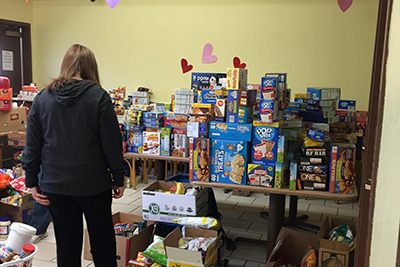 The Fremont church has been encouraged by the massive support and immediate response of the community.
"We are so thankful for the way the community has come together to take care of one another, even while we were an island without access to anything outside of Fremont," Sparks said. "People were incredible. They really showed up!"
As the cycle continues of subsiding floods and melting snow, only time will tell the true devastation this flooding has had on Nebraska and the surrounding states.
"Though this was a horrible tragedy, God is still faithful, and He is still good," Sparks said. "We will be working with Nazarene Compassionate Ministries to help with relief and rebuilding, and we will continue to offer care and support to those in our church family and to our community as we walk together through this journey. We appreciate all of those who have and are continuing to pray."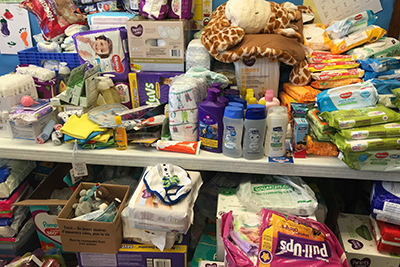 Both Nazarene districts in Nebraska and Iowa are assessing the needs of both their members and neighbors to determine the best short and long-term responses. It is expected that some Nazarene disaster relief teams will travel to the Midwest to support the local churches and districts and their recovery efforts. At the moment, there is no need for donations of goods or new Crisis Care Kits.
 
How You Can Help
 
Pray
 
Please pray for those who are suffering in the aftermath of this storm and flooding. Pray for those who have lost livestock, livelihoods, homes, or loved ones. Pray for farmers who are facing unique agricultural challenges during the rebuilding stage. Pray for the floodwaters to recede quickly, and pray for the months of recovery that lie ahead. Pray for our local leaders and church members in Nebraska and Iowa who are seeking to serve their communities in the days ahead. To send a prayer or note of encouragement, go to ncm.org/pray.
 
 
Give
 
Churches and individuals around the world can provide support through the US/Can Nazarene Disaster Response Fund. Donations will be used for immediate needs, such as water and food, as well as long-term recovery and rebuilding efforts.
 
To send donations by mail:
In the U.S., make checks payable to "General Treasurer" and send them to: 
Global Treasury Services
Church of the Nazarene
P.O. Box 843116
Kansas City, MO 64184-3116
Be sure to put ACM1187 in the Memo area.
 
In Canada, make checks payable to "Church of the Nazarene Canada" and send them to:
Church of the Nazarene Canada
3657 Ponytrail Drive, Mississauga, ON | L4X 1W5
Be sure to put ACM1187 in the Memo area.
 
For any other country, give through your local church or district, designating your gift to US/Can Nazarene Disaster Response Fund.
*A bomb cyclone is similar to a winter hurricane. The recent storm's pressure was equivalent to a Category 2 hurricane.