Nazarenes respond to Nyiragongo volcanic eruption
by
| 11 Jun 2021
Image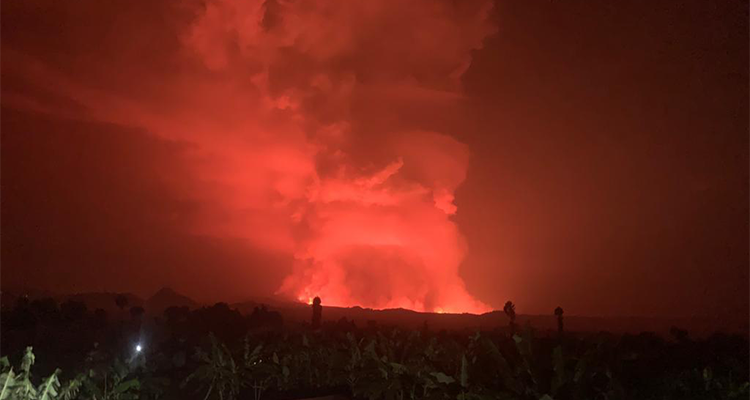 The city of Goma in the Democratic Republic of the Congo was rocked by a large eruption of the Nyiragongo Volcano on the night of 22 May 2021. Constant and severe earthquakes were felt for 10 days, causing houses to collapse. The quakes also caused cracks within the walls and pavement throughout the city, and lava flow left behind additional destruction.
Around 400,000 people have evacuated and about 20,000 are homeless. The lack of clean water, food shortages, lack of electricity, and even the rain has made life difficult for the evacuees as the crisis intensifies. Many residents headed towards the cities of Sake, Minova, and Masisi, and some people living in the southern part of Goma had to cross the border to Rwanda. 
Nazarene Compassionate Ministries in North Kivu Central District, under the supervision of Field Strategy Coordinator Mario Martínez and NCM Field Coordinator Celestin Chishibanji, has been responding to the disaster with help and direction from Regional NCM Coordinator Janice Ballard.
Local Nazarene churches have been housing and feeding people who were made homeless by this disaster. A task force established by the Africa Region will mobilize the church in Africa to take up an offering with the funds supporting the NCM efforts in the affected areas.
So far, emergency supplies of food, water, crisis care kits, and other items have been consistently distributed to shelters. Leaders have identified and assessed household needs with all the pastors of Goma and the surrounding areas. They counted 158 homes that welcomed 518 displaced people, including 17 people who have been treated by Dr. Voté Lwanga (a doctor at the Nazarene medical center) and Safi Muyisa, a psychologist who consulted and accompanied nine displaced people. 
"We are trying to do what is necessary and bring hope to the people directly affected and to the shelters that somehow seem desperate and overwhelmed by the situation," Chishibanji said. "We want to do it by sharing the gospel, but we also hope that they will see it in us by extending a hand of compassion.
"We have seen churches praying and collecting everything possible to help the evacuees most in need but also opening doors to welcome those who have seen their homes burned. We have seen the grace of God through so many people as they reached out and helped each other. I can testify that I am seeing the goodness of the people who come out, and our dear brothers and sisters who are looking for hope will see it too."
How to help
Pray
Pray for those who have lost homes and shelter. Pray for those still seeking shelter and food. Pray for the evacuees' mental and physical well-being amid the COVID-19 pandemic. To send a prayer or note of encouragement, go to ncm.org/pray.
Give
Churches and individuals around the world can provide support through the Greater Compassion Fund.
To send donations by mail:
In the U.S., make checks payable to "General Treasurer" and send them to: 
Global Treasury Services
Church of the Nazarene
P.O. Box 843116
Kansas City, MO 64184-3116
Be sure to put 227 in the Memo area.
In Canada, make checks payable to "Church of the Nazarene Canada" and send them to:
Church of the Nazarene Canada
3657 Ponytrail Drive, Mississauga, ON | L4X 1W5
Be sure to put 227 in the Memo area.
For any other country, give through your local church or district, designating your gift to Greater Compassion Fund.