Nazarenes respond as Louisiana flooding creates major disaster
by | 15 Aug 2016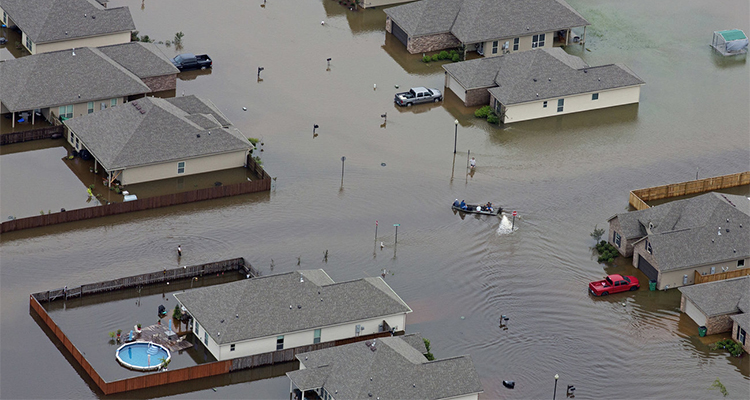 A deluge of unusually heavy rains late last week caused unprecedented flooding in southern Louisiana and parts of Mississippi. At least 13 people died in the record-level floods, which also forced tens of thousands of people from their homes. Thousands of families are in shelters and cannot return home.
Entire neighborhoods have been swamped since approximately 25 inches of rain fell over the course of just a few days.
More than 20,000 people had to be rescued from flood waters by the Coast Guard. Victor and Teese Boyd, who pastor the Baker, Louisiana, Church of the Nazarene, were among those rescued with only what they could carry.
The Boyds "lost everything—vehicles, contents, and parsonage," said Chuck Fountain, Louisiana district superintendent.
According to Fountain, several Nazarene churches were also affected by the flooding, and several church members were displaced after their homes flooded.
"Our hearts are heavy with the loss of life, property, and livelihoods as a result of the horrendous floods in Louisiana," said Bob Broadbooks, director of the Church of the Nazarene's USA/Canada Region. "Compassionate Nazarenes are already mobilizing resources to help. Thank you for your prayers and support."
Flooding Disaster Response 2016 from Church of the Nazarene on Vimeo.
How to help
Pray
Please pray for those grieving the loss of loved ones. Pray for individuals and families who lost their homes, especially vulnerable children and senior adults. Pray that people would know God's comfort and peace, and for churches working to meet their neighbors' urgent needs.
Give
Churches and individuals around the world can provide support through the USA/Canada Disaster Response Fund. Donations will be used for immediate needs, as well as long-term recovery and rebuilding efforts.
To send donations by mail:
In the U.S., make checks payable to "General Treasurer" and send them to: 
Global Treasury Services
Church of the Nazarene
P.O. Box 843116
Kansas City, MO 64184-3116
Be sure to put 127078 in the Memo area.
In Canada, make checks payable to "Church of the Nazarene Canada" and send them to:
Church of the Nazarene Canada
20 Regan Road, Unit 9
Brampton, Ontario L7A 1C3
Be sure to put 127078 in the Memo area.
For any other country, give through your local church or district, designating your gift to USA/Canada Disaster Response.
Go
If you are interested in taking a volunteer team to help with the clean-up efforts, email brnazrelief@gmail.com.
Send
Specific items have been requested, as listed. Before collecting items, please email brnazrelief@gmail.com to get any updates on needs and instructions on how to ship them. (Note: Please do NOT send items that are not on this list. The Nazarene response teams are not set up to distribute additional items.) Also, keep in mind that unless you are receiving corporate donations, it will often be cheaper to send financial donations that allow teams to purchase supplies locally without the costs of shipping.
For those wishing to send supplies, the following are needed: Bottled water, bleach, gloves, masks, boots, 2-gallon yard sprayers, mops, buckets (1-5 gallons), shovels, utility knives, spray bottles (for bleach), battery-powered power tools, fans, generators, gift cards (for stores in the Baton Rouge area).