Nazarenes in the News: April 2021
by
| 30 Apr 2021
Image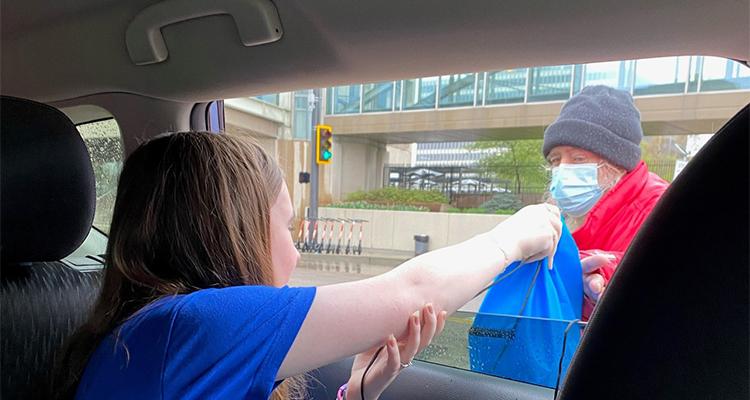 Nazarenes in the News is a compilation of online news articles featuring Nazarene churches or church members.
Kansas sister, brother create bags of blessings for those in need
Olathe, Kansas
(KSHB, 10 April) A 14-year-old Olathe girl's mission to distribute items to those in need continued on Saturday.
Morgan Forshee and her 11-year-old brother, Kai, raised money last year to create 1,500 "bags of blessings" to deliver to Kansas City metro communities, and the first 200 were put together and delivered this weekend. The bags consisted of food and hygiene and personal items.
"These bags will hopefully show people that they matter and are loved," Morgan Forshee said.
For the rest of the story, click here.
Oregon church opens café, compassionate ministry
Pineville, Oregon
(Central Oregonian, 20 April) A shiny new kitchen now greets the visitors and volunteers every morning that Craig's Compassionate Café is open to the public at 780 E. First St.
The café is part of the outreach of Redemption House Ministries, a 501c3, faith-based nonprofit, which is located within the building that is the Prineville Nazarene Church on East First Street. The mission at Redemption House Ministries is not only to provide a nourishing meal for those who find themselves in a tough situation, but for the shelter it provides a warm bed. It also serves a deeper goal, which is to "uproot the seed of fear inherent in those who experience homelessness, and to re-plant seeds of hope into those who have lost this necessity," as explained eloquently on the Redemption House website.
After being closed for nearly one year, Craig's Compassionate Café had a soft reopening on March 29. The café is open to anyone who needs a meal, and the café is staffed by volunteers like Lynn Ludecker, Gale Clark and Krissy Squires—all of whom work in the kitchen to provide meals.
Clark stated that they have a table in the cafeteria where they offer food products that have been donated that they cannot cook with and are free to anyone who wishes to help themselves. She emphasized that the meals are free for anyone.
"There are no questions asked, and if you need a meal, you should come down and get one," Clark stated.
For the rest of the story, click here.
Virginia church serves lunch to frontline workers
Roanoke, Virginia
(WDBJ7, 10 April) A church in Roanoke showed its appreciation for frontline workers Saturday.
East Gate Church of the Nazarene cooked up a meal for all those who have been working to keep the community safe, healthy, and educated during the pandemic.
They offered drive-thru style meals for law enforcement, fire-EMS, medical personnel and teachers.
Garth Landis thought of the idea just a few days earlier and together, with his church community, they had a goal of serving 500 lunches.
To read the rest of the story, click here.
Montana church celebrates 60 years
Pablo, Montana
(Lake County Leader, 22 April) Ethel Harding and her family, and the parents of Ray Miller, still of Pablo, were instrumental in starting the church. Harding kept the archives of photos as the church was built and as it grew. Unfortunately, the album is not available for viewing during the celebration.
"We took a lot of pictures. They were put into an album, but nobody knows where that album is," Miller said.
Miller was a teenager when his family helped start the Church of the Nazarene in Pablo in 1958. Now in his 70s, he wrote his own contribution to the archives, a letter telling what he remembered about the church's early days.
"We started out pretty humbly," Miller said.
For the rest of the story, click here.
Cabo Verde Nazarene re-elected president of Council for Research and Agricultural Development of Western and Central Africa
Current president of the National Institute of Agricultural Research and Development of Cabo Verde, Angela Moreno, has been re-elected president of the CORAF for the three-year term.
CORAF is an international nonprofit association of national agricultural research systems in 23 countries in West and Central Africa. It is the largest of the four Subregional Organizations of the Forum for Agricultural Research in Africa.
CORAF's primary goal is to improve subsistence facilities in West and Central Africa through sustainable improvements in agricultural production and productivity, as well as to promote competitiveness and markets.
Moreno has a Doctor of Philosophy in biosystem engineering-rural engineering with master's degree in hydraulics and water resources. She is an agronomic engineer with 26 years of experience in agriculture, irrigation and hydraulics, water management, and agricultural research.
This is the first time a president has been elected to two consecutive terms in CORAF.
"Angela is a well educated Nazarene who holds to her faith without fear," said General Superintendent Eugenio Duarte. "She is not shy to give credit to God whose grace sustains her in difficult leadership situations. Her re-election as president of an international organization witnesses to the fact that even though 'the world hates you,' there are opportunities out there for true Christian life and principles to impact the world."
Stories to share? Send them to news@nazarene.org
--Compiled by Nazarene News