Nazarene Medical Corps provides aid at southern Mexico border
by
| 13 Oct 2021
Image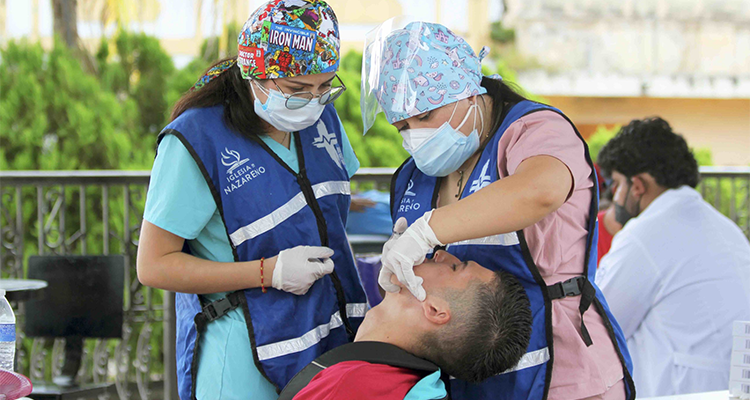 Nazarene Medical Corps provided more than 600 medical consultations for the migrant community on the southern Mexican border area of Tapachula, Chiapas. The team also led a service for more than 50 children, who heard the gospel message.
The corps mobilized from 24-26 September and assisted people from Haiti, Central America, and South America. They encountered frequent conditions such as gastrointestinal issues, headaches, chronic diseases, dermatitis, cavities and dental pain, muscle pain, and emotional pain.
The volunteer health professionals largely are young doctors from the South, Sierra, South Pacific, and Southern Border districts of Mexico. The group includes general medical doctors, nurses, radiologists, physical therapists, and psychologists.
One of the doctors, Doctor Aparicio, said that one mother came to them worried about the health of her daughter, who had symptoms such as diarrhea, fever, and weight loss. While assisting this young patient, the doctor gave her a diagnosis, medications, and the message of faith and hope in Jesus Christ.
Additionally, the team invited children who were in the nearby park to play games and sing children's songs. This allowed the team to present the message of Jesus Christ, to pray with the children, and to identify various emotional problems.
 "It was a beautiful time," said Edi Montejo of NCM Mexico. "The Word of God as declared in Mark 9:41 says, 'Truly I tell you, anyone who gives you a cup of water in my name because you belong to the Messiah will certainly not lose their reward.' Everyone can help; we can motivate the Churches of the Nazarene around the world to serve with love, respect, and grace, to participate with sincerity in local Nazarene Compassionate Ministries. This is what it means to live the practical holiness of God."