Mexico churches join forces to aid community's most vulnerable
by
| 30 Apr 2020
Image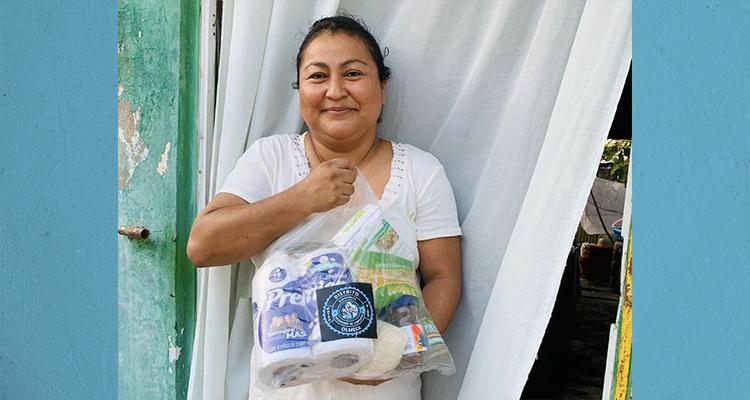 Churches on the Mexico Olmec District are uniting through the "Evangelistic Table" project to provide the community with essential products, counseling, and prayer.
The project began on 5 April and consists of setting a table outside the temples or houses of the members with essential items to share with those most in need. Each table works as a station that also connects people to counseling and prayer. The table has a box where people can put their prayer needs as well.
"… We were in prayer and that brought us to the heart to do something to share, something that people knew that the churches were present, that Jesus is still watching over them!," said Ana Candy Castro, district NCM coordinator. "The building is certainly closed, but the Church must show the love of Jesus. " 
The district churches are participating in several ways, including collecting and disinfecting the products, donating items or sending a financial contribution for their purchase, and providing locations to set up the tables. Pastors, prayer teams, and psychologists have also been invited to give support to those who request it.
The team's leadership said that it is important that its volunteers are not experiencing the symptoms of COVID-19 and are following NCM's guidelines for safe relief distribution.
So far, they reached more than 50 people, including a 16-year-old girl who is responsible for her younger siblings and is unemployed. Volunteers have also delivered donations to a single mother who had no food in her cupboard and to an older adult who was selling his belongings to buy food. He expressed interest in attending the church once the building reopens.
To date, almost a quarter of the district's churches have joined the project. A prayer team was formed on WhatsApp, involving pastors, church members, and leaders, including District Superintendent Aner Castro, who prays for the petitions collected. 
Another group of six volunteer pastors are giving counseling by phone, and 10 volunteers are shopping on behalf of vulnerable people. 
"We have this project happening in the city of Coatzacoalcos, and we are praying that God will create links in other cities since in this third phase of the lockdown, older adults who live alone will no longer be able to go outside," Castro said. "I thank each of those who have joined, especially sister Julissa Contreras Domínguez, president of the district NMI, with whom we are working together."