Mexico church feeds those in need during pandemic
by
| 08 Oct 2020
Image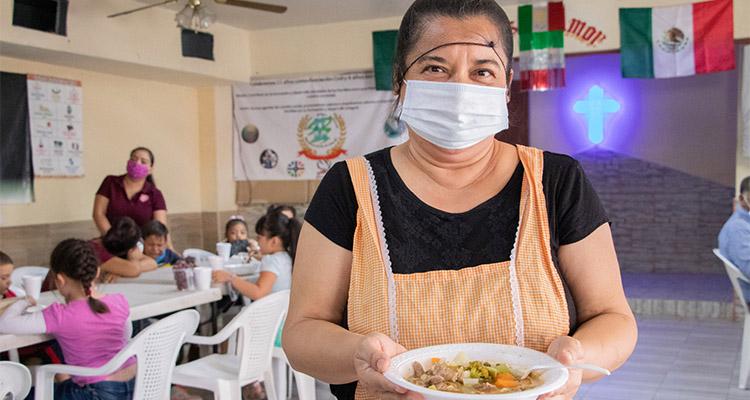 During this time of crisis caused by the COVID-19 pandemic, the Verbo de Vida (Word of Life) Ministry of Primera Iglesia del Nazareno in Ciudad Juárez, Chihuahua, Mexico, is actively sharing food and masks with community members in need.
During the month of September, the Verbo de Vida ministry received meats, fruits, vegetables, and additional groceries, among other items, from United Fund of Chihuahua and the Department of Families in Mexico (DIF). This allowed the ministry to prepare and deliver 100 packages of food every day to the people who need it most. 
Ciudad Juarez is positioned on the border of Mexico, where there is much need. Additionally, the church brought food to 30 children and staff at a children's center operated by the Salvation Army. In addition to the delivered food and in collaboration with the Salvation Army, they were able to deliver masks to people throughout the community.
"This has been a very challenging and exciting experience," said Conrado Monterrosa, who pastors the church. "Because of the COVID contingency plans, prepared meals are offered to take away and only children are allowed to take food."
Pastor Monterrosa said that it was a blessing to see people extremely grateful for receiving the food. He added that as a church, they are motivated to continue serving with love after hearing powerful testimonies like the one he heard from an older woman.
The woman told them that she was caring for her three grandchildren that are all under 10 years old, because their father is isolated and without work after contracting COVID-19. On top of it, these children were also abandoned by their mother.
Pastor Monterrosa added that, although it seemed the church did not have enough funds to meet the community's needs, the Lord still provided for them what was necessary to serve. 
"Thank you to the church volunteers who have embraced the vision of serving and fulfilling the mandate of Jesus," Monterrosa said. "Thank you, in a special way, to the donors who are so blessed by giving generously."
Since 2015, the First Church of the Nazarene in Juarez opened a community soup kitchen to serve children, the elderly, and migrants from Mexico, Latin America, Asia, and Africa and more who arrived at the border of Mexico seeking asylum in the United States. Over these past six years, the Church of the Nazarene has prepared and delivered around 30,000 plates of food as an expression of love and compassion.