LC18 equips pastors, leaders for discipleship
by | 12 Oct 2018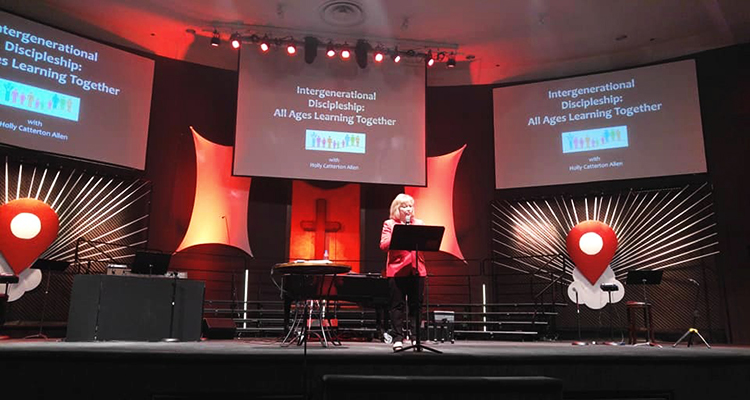 Sunday School and Discipleship Ministries USA/Canada held its 2018 Leadership Conference 11-13 September at Springdale Nazarene Church in Cincinnati, Ohio. Nearly 200 SDMI district and local church leaders from across the region participated in the semi-annual leadership conference. The event included a number of special plenary speakers and 35 educational workshops on a variety of subjects essential to discipleship. 
One Team, One Mission, One Passion
"One Team, One Mission, One Passion" was the theme for this leadership summit. LaMorris Crawford, chaplain for the Cincinnati Bengals, opened the conference by addressing the first theme element, "One Team." Mark Bane, director of Evangelism and New Church Development for USA/Canada Region, challenged attendees to consider how they are fulfilling SDMI's "Mission": the Great Commission. Holly Catterton Allen, professor of family studies and Christian ministries at Lipscomb University in Nashville, Tennessee, shared a message called "One Passion: Discipling Children Together." Springdale Church Senior Pastor Daryl Blank reminded everyone of the influence we have as we work in concert with the Holy Spirit. General Superintendent Filimão Chambo concluded the conference by sharing that we all are called to be united in "One Passion" for Christ. 
The interactive workshop sessions provided opportunities for learning, discussion, and networking. Additionally, a variety of exhibitors provided resources and connections to ministries within the Church of the Nazarene. Video and audio files of the plenary sessions and a number of the workshops will be available on the SDMI website this month.  
Community Bible Experience and Immerse
Each LC18 attendee received a New Testament copy of Immerse, a three-year Bible reading experience. This new resource is similar to the Community Bible Experience, a program SDMI staff introduced two years ago to help local churches grow in biblical literacy and outreach. The program was very successful among Nazarene churches, but its sponsor and producer recently chose not to continue the project in USA/Canada. 
If you are interested in using Immerse, send an email to the SDMI office to receive more information about both the printed and online resources.
SDMI and M19
The next SDMI leadership event will be part of Mission 2019 (M19), the Church of the Nazarene's mid-quadrennial conference for pastors, leaders, and students in USA/Canada. M19 is intentionally emphasizing the church's call to mission and evangelism, and SDMI will offer ministry training through a variety of workshops at the conference. In addition, a special dinner event will offer SDMI leaders a chance to meet the new global director, Scott Rainey, and hear his vision for the future of SDMI. Visit m19conference.org to learn more.