Eurasia regional conference provides reconciliation, encouragement
by | 04 Dec 2015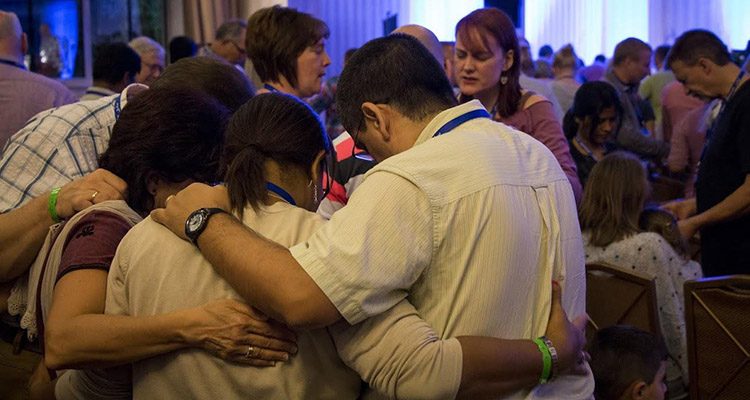 Reconciliation was the theme of the quadrennial Eurasia Regional Conference, celebrating God's presence and leading for the Church of the Nazarene amid recent years of economic difficulty, political tension, upheaval, and civil war. The November conference, which drew 640 people from nearly 50 nations, brought messages of hope at a time in the Eurasia Region when many people have much to forgive, and will have much to forgive in the future.
During the opening service, Regional Director Arthur Snijders said forgiveness is costly, a transaction in which at least one party always pays. He explained that Jesus paid the ultimate price to reconcile himself with humanity, demonstrating that forgiveness and reconciliation are not cheap.
The conference Scripture was taken from 2 Corinthians 5:14-21, which states "God was reconciling the world to himself in Christ, not counting people's sins against them. And he has committed to us the message of reconciliation."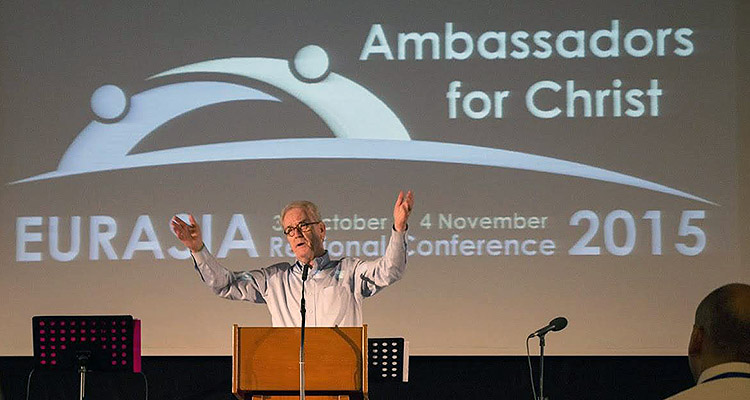 "We're first citizens of the kingdom of God and then we're residents of our country," said J. K. Warrick, general superintendent with jurisdiction over the Eurasia Region. "We must be free of prejudice and our bias."
Additional keynote speakers included leaders from each of Eurasia's seven fields. Maria Gustzin, a local pastor from Budapest, spoke about how her family was oppressed during the days of Communism. Yet, as refugees poured into her city this summer, she found herself in an unexpected position of power. She chose to put aside that power to sit with refugees on the dirty ground of the Keleti train station and listen to their stories.
"They got on the trains, and we wished them well, and they shouted, 'We hope you come to Syria so we can show you our beautiful country, because you welcomed us,'" she recalled. "Reconciliation means something more for me. It means not only forgiving my oppressors, it means not doing the same to others when in a position of power. Reconciliation means not only forgiving and letting go, but understanding that anything less than loving the other is cruel."
Italy District Superintendent Daniel Fink described reconciliation as a future promised land.
"We are still on this side of the river," he said. "There is work in progress. We are trying to detect and discern how to bring this world into God's new land."
He also pointed out that stories of reconciliation are rare in the Bible, because the Bible reflects life, and reconciliation is rare in life.
"When it happens, we should consider it a miracle," Fink said.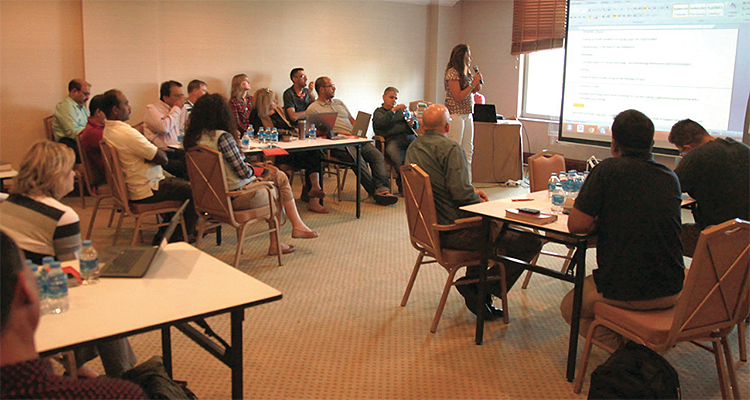 Eurasians proved they were not afraid to confront complicated — and sometimes ignored — issues, attending workshops featuring topics including "Sexual Offenders and 
the Church" and ministry to people with disabilities. In other workshops, participants discussed stories of reconciliation in the Middle East, focused on youth work, or engaged in personal and spiritual development.
A theology day kicked off the activities, focusing on Indigenous holiness theology. The day featured a number of regional theologians presenting papers on different aspects of reconciliation. Theological topics were also included in the daily workshops, such as reflections
on youth ministry, and holding together the distinct Christian message while positively engaging with followers of other faiths.
The convergence of people from across the region also made it possible for the very first meeting of a new region-wide committee on the growing refugee crisis. The group was made up of Nazarenes from each of the region's nations where significant numbers
of Middle East refugees have been displaced, are in transit, or are in the process of settling.
The group wrestled with the complicated questions, the fears, the unknowns of watching their governments make hurried plans to accept and settle large numbers of people on the move. They also discussed ideas for how 
to better coordinate their grassroots activities at all the points where they could intersect with refugees.
Following the conference, many stayed to participate in two days
 of meetings for Nazarene Youth International, Nazarene Compassionate Ministries, regional educators, and district superintendent training.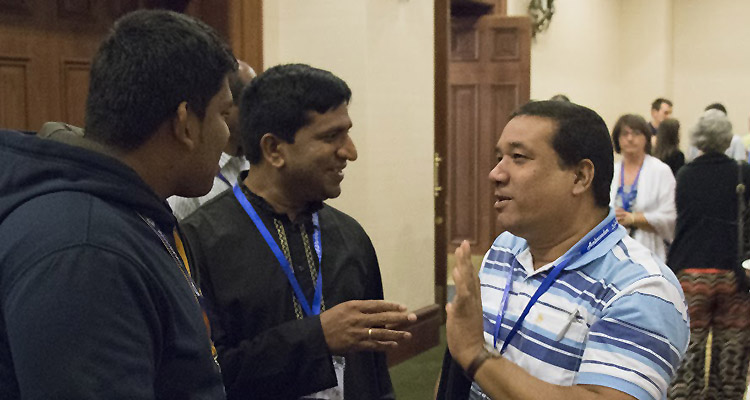 At the close of a difficult and sometimes dark year for many parts of the Eurasia Region, coming together brought inspiration and joy to many of the participants.
"First of all I love the fact that we
get to meet people from different areas and hear from them what Christ is doing there," said Selim Kolgeci, a local pastor in Kosova. "I get so very encouraged, and then I go back home to my home church and tell them, and they get encouraged as well."
Despite the wide range of cultures and world areas, participants discovered they have much in common. 
"There's so much going on really close to where we live in our field and we don't know anything about it," said Sarah Montgomery, from the United Kingdom who now ministers in Poland. "It's been so encouraging to hear from lots of different cultures. Being in Poland, we think the way the problems we have we're alone. But actually, we're not."
The Eurasians returned home to be ambassadors for Christ in their cultures. The next regional conference will be held in four years at a site to be determined.
Additional conference news:
The Eurasia Region Education Council presented Kent Brower, vice principal of Nazarene Theological College-Manchester, with the Dr. Hugh Rae Award for a lifetime of service to higher education on the region. The award is named for the late Hugh Rae, a former principal of NTC-Manchester, and is given once in a quadrennium to a lifetime educator on the region.
Sabine Wielk, who stepped down last year as leader of Nazarene Youth International on the region, was given the Timothy Award, recognizing 14 years of service to the region's youth.
A team from Nazarene Theological College-Manchester and several churches in the UK came to lead ministry among the 40 children aged 18 months to 14 years. The children enjoyed games on the beach, crafts such as painting on T-shirts, sports, field trips and playing their own movies at the hotel cinema.
Youth concluded the conference with their own mini-gathering, including a talent show, games, and many staying up all night talking before catching 
their early morning flights home, simply because they did not want to say goodbye to their new friends from other countries. "We've started to make deep connections, and hopefully in the future we'll make connections with those countries to glorify God," said Sumeet Gawali, a member of NYI from Mumbai, India.
Selvaraj Jayakumar, pastor and superintendent of the India Tamil Nadu West District, passed away suddenly in India, after delaying his departure to the conference. His son, Kingsley Jayakumar, a local pastor and India NYI coordinator, immediately returned home to be with his family. (read more)