Eurasia Region explores 'Invisible World' at regional conference
by
| 12 Dec, 2019
Image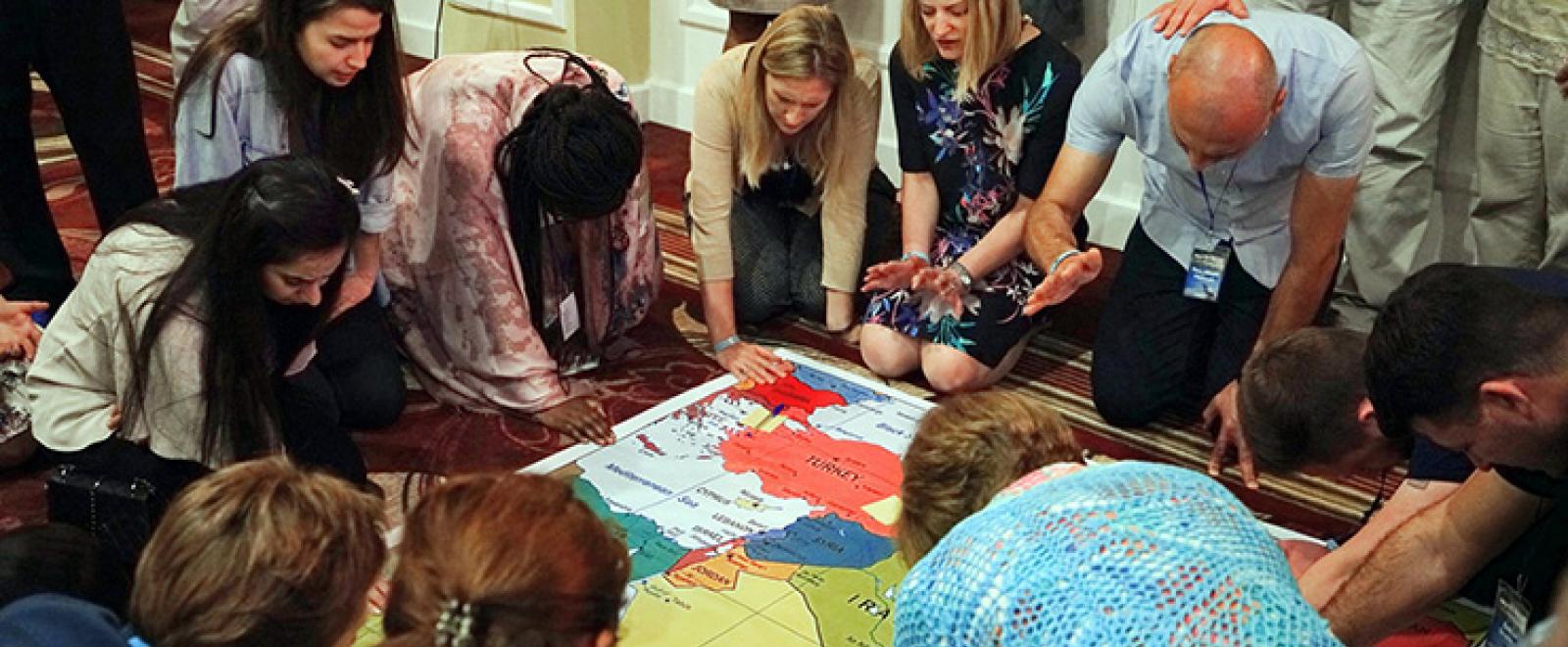 Five hundred Nazarenes from many countries entered an "Invisible World" at the Eurasia Regional Conference, held 14-19 November 2019 in Kyrenia, Cyprus. The "Invisible World" conference theme allowed the gathering to explore ways the church in Eurasia experiences invisibility. 
"The theme verse for the conference was 'So we fix our eyes not on what is seen, but on what is unseen, since what is seen is temporary, but what is unseen is eternal,'" explained Arthur Snijders, Eurasia regional director. "This is what has happened in these few days."
Coming mainly from Eastern and Western Europe, the Middle East, and Central Asia, the participants experienced unity amid diversity over four days of morning and evening worship services, workshops, prayer times, small groups, and fellowship over meals and recreational activities.
"The worship is like heaven on earth, with so many languages," said Lois Habiby, a participant from Lebanon, referring to the songs led and sung in languages representing many countries in Eurasia.
During one worship service, large maps of different parts of Eurasia were laid on the floor and participants gathered around each one, laying hands on the countries and praying for local ministry leaders, missionaries, and the needs of people known in those places.
"I especially enjoyed when we prayed for the countries and put some stickers on the maps," said Svetlana Kleschar of Ukraine. "And the testimonies [shared during each service] were wonderful. I realized how big and, at the same time, how small our Nazarene family is. Different languages and different countries – we are united."
Each service emphasized one of the region's five priorities through video presentation and service theme. Keynote speakers included two leaders from South Asia—Rajiv Yangad, a district superintendent and communications coordinator for India, and Ganga, a pastor and leader from Nepal; two women leaders on the region: Mária Gusztinné Tulipán, pastor and educational leader in Hungary and Annemarie Snijders, Eurasia Region missional assistant; a pastor and leader in the Middle East; David Graves, general superintendent; Verne Ward, Global Missions director; and Arthur Snijders, regional director.
"The sessions on regional priorities every day … was very impactful. That has made me know as a region what we stand for," said Vijay Bhalerao, India Field youth coordinator and NYI India discipleship coordinator. "I'm going to take the knowledge of the regional priorities and implement that in the district and local churches."
The emphasis on the regional priority of "discovering and developing the leaders around us" struck a chord with Caroline Salameh, a teacher in a church-based school for refugee children in Lebanon.
"It reminded me of the importance of equipping leaders in the church," she said. "It made me think about it and work on it. It raised questions in my mind."
Workshops were designed to equip participants in leadership skills and development; evangelism and discipleship amid postmodern and secular societies; interpersonal communications; prayer and fasting; Nazarene doctrine, and media and communications, including filmmaking.
A theology day at the conference brought together educators, theologians, and people from across the region with an interest and commitment to theological development of lay people and leaders on the region. With papers presented by people from various cultural contexts, the theology conference focused on the biblical call to holiness as a vocation.
"I particularly enjoyed the fact that we had a couple of papers from Western European contexts articulating what it means to be a follower of Jesus in a postmodern/Christendom Europe, side by side with a similar question explored and presented by Arab Nazarenes living in a culture shaped and influenced by another faith," said MiJa Wi, lecturer in biblical studies and global mission at Nazarene Theological College in Manchester, England. 
"The contexts are different and the ways in which the question is explored are different, but the question is a similar one: What does it mean to be a Nazarene in our time and place? I learned a lot from a personal story of a brother from Jordan of his own experience in the past and present," Wi continued. "It was a great example of doing theology differently—narratively."