Eurasia Nazarenes share experiences at GA, regional sites
by | 28 Jul 2017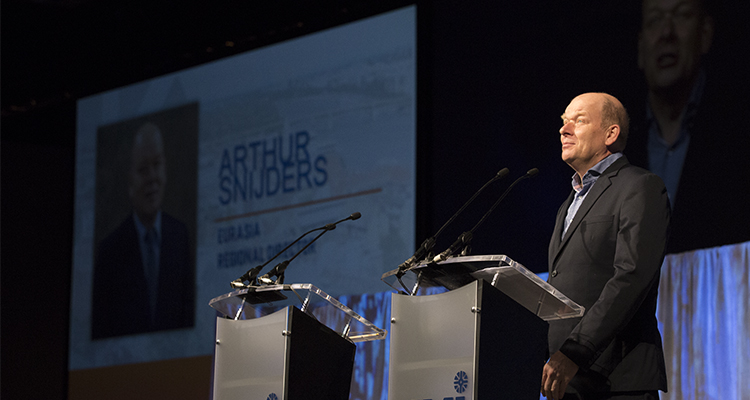 On 23 June, Eurasia Regional Director Arthur Snijders shared stories of how local churches across Eurasia are rising to meet challenges like secularism, poverty, and the influx of refugees through the love of Christ when he presented before the Global Nazarene Missions International Convention at the 2017 General Assembly and Conventions in Indianapolis, Indiana, USA.
It was among numerous moments throughout June 21-30 when Eurasians represented the region to the global church family.
Before the presentation, Joseph Chalhoub, NMI president for the Lebanon District, prayed for the convention. Vocalists, musicians, and dramatic readers included representatives from British Isles North, Germany, Jordan, and the regional office. Philip Weatherill of British Isles South and the elected Global NMI President, helped to lead the convention.
General Assembly is held every four years, gathering as many as 20,000 Nazarenes from around the world to worship God, celebrate unity amid diversity, and to conduct the business of the church, including electing two new general superintendents.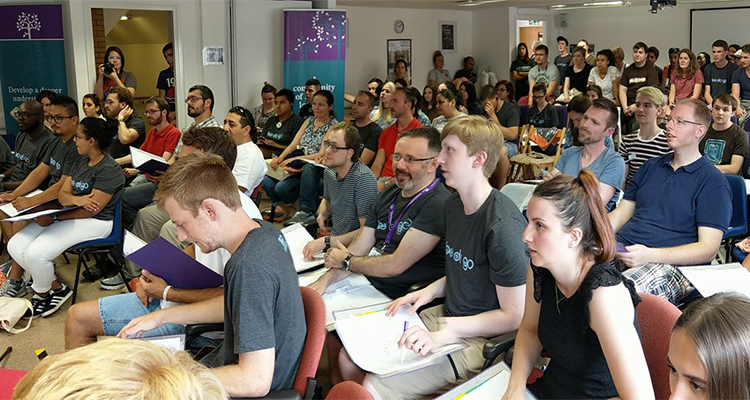 This quadrennium, Nazarenes gathered simultaneously in 10 locations around the world, worshipping, discussing, and voting via live feeds — all around the theme of "One Body, One Spirit, One Hope, One Lord, One Faith."
International fellowship was a highlight for many, including Daniel Fink, district superintendent for the Italy District, who said he enjoyed, "meeting old friends and new ones, pastors and missionaries from all regions and the strong sense of fellowship, love and unity."
It also gives a "glimpse of our global Nazarene family and seeing that the beauty of our church is determined by the diversity and the strength that each region contributes into it," he added.
For Dalia Matijević of Croatia, who attended General Assembly for the first time, it was the opportunity for greater understanding of the global church she is part of.
"I was thrilled to discover the whole church body is functionally connected and sensitive about what is going on the other parts of the world," she said. "Having access to different perspectives, circumstances and understandings on the same topic: 'How to make my church more Holy Spirit-driven, more God-oriented, more socially relevant, and more holy,' was immensely exciting, encouraging, and a useful experience for me."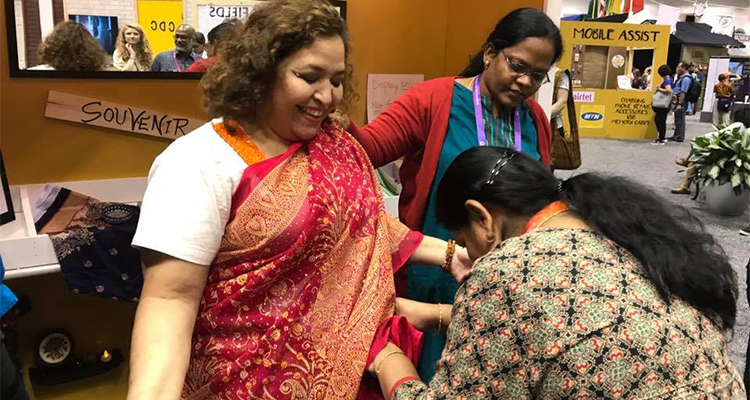 In Indianapolis, the Eurasia Region portion of the Global Mission exhibit displayed facades to represent different ministries and cultures in Eurasia. Missionaries and national leaders gathered in the exhibit each day to meet and greet other Nazarenes interested in learning more about what God is doing in Eurasia and how they can be involved.
Many people from other world areas enjoyed coming to the exhibit to see friends, to pick up information, and try on traditional clothes from different Eurasian cultures.
In Eurasia, Hyderabad, India, and Manchester, England, hosted simultaneous Nazarene Youth International and Sunday School and Discipleship International conventions where more than 300 people in total participated in the global conventions.
Wouter van der Zeijden of the Netherlands compared his experience at the 2013 NYI convention in the USA to this summer's smaller site in Manchester, U.K.
"It exceeded all my expectations," he said. "The intimate atmosphere doubled my enthusiasm! It was like attending an NYC with a combination of business, worship, lots of games and great fellowship with about 150 people all over the Eurasia Region."
Of the NYI gathering in India, Oshan Isemonth of Sri Lanka shared said, "My favorite moment in the whole event was when we did a cultural dinner and everybody offered something from their country. It was one magical moment to see Nazarenes cook and share food — I think food is the 6th love language."
Representatives for CIS and South Asia made time for meetings and fellowship with people who have been partnering to support the growth and development of the church in these fields.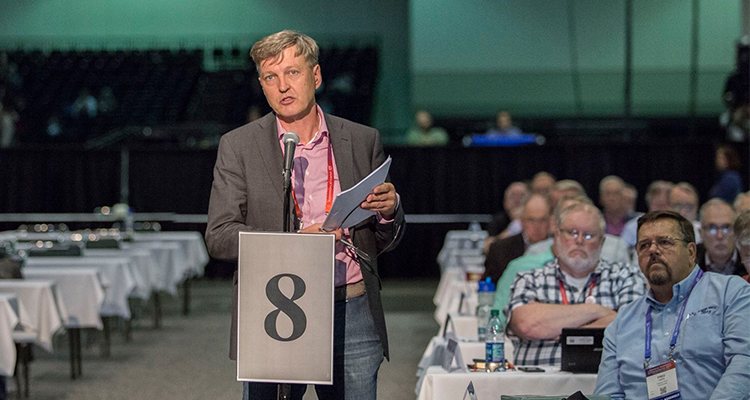 During the second week, delegates participated in committee meetings and discussed and voted on amendments and resolutions.
The 2017 General Assembly and Conventions have ended, but the memories, relationships, and decisions will carry forward until the next gathering.
"I will share my experiences with every local church of the district and with all our leaders," Fink said. "I want to encourage them to keep engaged with the global mission of the church. We are a giving and sending church."