Disaster response underway as Florence, Mangkhut make landfall
by | 14 Sep 2018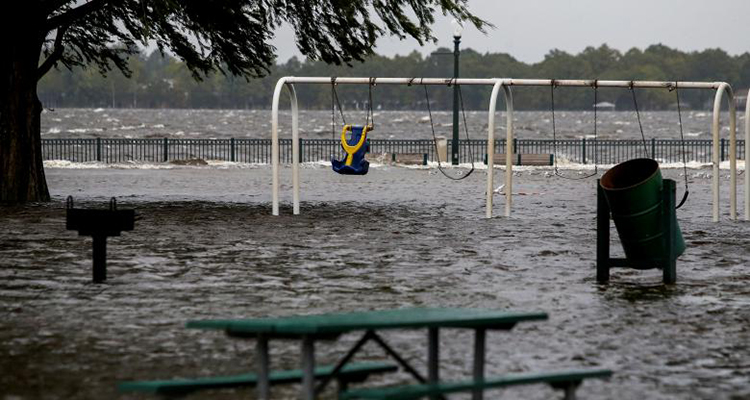 Hurricane Florence made landfall in North Carolina, USA, early on 14 September, with 90 mph winds less than a day before Typhoon Mangkhut hit the Philippines. So far, Florence has caused half-million homes and businesses to lose power, and hundreds of people have already been rescued from rising floodwaters. A mother and her daughter were killed when a tree fell on their home. At least one other person was reported killed as of mid-afternoon local time Friday.
Florence is expected to drop as much as 40 inches of rain in some areas along the U.S. East Coast. Greg Mason, district superintendent for North Carolina, said there is already widespread flooding within the state, which is expected to get much worse.
The Church of the Nazarene began preparing in advance for Florence with Nazarene Disaster Response teams mobilized from non-coastal churches. Additional churches are partnering with Heart to Heart International and World Hope to respond once the damage is clear. The church is also poised to distribute Crisis Care Kits to areas of greatest need; currently, 1,500 are stored in North Carolina, and the South Texas District is delivering 3,000 more. 
Typhoon Mangkhut, the most powerful typhoon this year with sustained winds of more than 127 mph and gusts of 158 mph, hit the Philippines on 14 September. Its enormous raincloud band is about 560 miles wide, so there is a high concern for flooding and mudslides. More than 5 million people are at risk from the storm. The typhoon comes five years after Typhoon Haiyan killed 6,300 people in the Philippines.
Mangkhut strengthened after hitting the U.S. Pacific territories of Guam and the Northern Mariana islands overnight on Monday, tearing down trees and power lines and leaving hundreds of people homeless.
The Church of the Nazarene has a well-formed disaster response in the Philippines and was mobilizing in anticipation of the storm. Leody Tan Echavez III, the Nazarene Compassionate Ministries field coordinator in the Philippines, said local churches are working to coordinate updates and keep communications lines open. They have also put Crisis Care Kits and other relief goods in easily accessible areas. Churches in the Philippines also set up safe spaces for families and children during disasters.
"We ask for your prayers as the whole country brace for this Typhoon that might make landfall today or tomorrow," Echavez said. "Please pray for protection, and may the Lord spare the country from an impending disaster."
How You Can Help
Pray
Please pray for those facing the devastation left by the storms and the ensuing floods. Pray for those who have lost loved ones and homes. Pray for those who are most vulnerable during and after the storm, especially senior adults, individuals with disabilities, and people living in poverty. Pray for the swift delivery of the supplies and care they need, and pray for the months of recovery ahead. Pray for church leaders and churches responding to the needs around them. To send a prayer or note of encouragement, go to ncm.org/pray.
Give
Churches and individuals around the world can provide support through the Emergency Relief: 2018 Storm Response. Donations will be used for immediate needs, such as water and food, as well as long-term recovery and rebuilding efforts.
To send donations by mail:
In the U.S., make checks payable to "General Treasurer" and send them to: 
Global Treasury Services
Church of the Nazarene
P.O. Box 843116
Kansas City, MO 64184-3116
Be sure to put 132634 in the Memo area.
In Canada, make checks payable to "Church of the Nazarene Canada" and send them to:
Church of the Nazarene Canada
3657 Ponytail Drive, Mississauga, ON | L4X 1W5
Be sure to put 132634 in the Memo area.
For any other country, give through your local church or district, designating your gift to Emergency Relief: 2018 Storm Response.