Costa Rica youth sells artwork to help others affected by COVID-19
by
| 04 Aug 2020
Image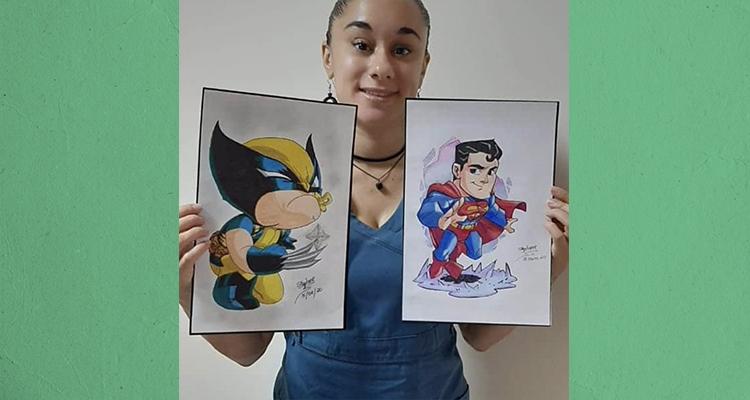 Stephanie Sanchez, a young member of the Church of the Nazarene in Tibás, Costa Rica, is selling her art to purchase food that is then delivered to families in the community. Here, she shares more about this project called "Stephy Art."
My name is Stephanie Sanchez, and I'm from Tibás, Costa Rica, and a member of the Nazarene church of that area.

Because of COVID-19, my family, like many others, was directly affected by the labor and economic aspects. However, we have seen the hand of God at every moment, even until now.

Generally, as a family we help people who are in need, and because of this situation we have been a little sad because we haven't had the resources to contribute in one way or another. My dad has been an artistic painter for over 40 years and I inherited that beautiful gift.

One day in my room, I was looking at my walls full of drawings that I had done some time ago, the Lord said to me, "You don't need money, I have given you gifts and talents; use them!" 

So, I decided to open my Facebook page, "Stephy Art," promoting the exchange of a drawing for basic household necessities. 

The initiative has received great support, and to date 19 packages have been delivered to families who, like mine, have been directly affected by this situation. They included food and cleaning products.

Twelve packages have been delivered in the vicinity of Tibás; four have traveled to other areas, and three have been given to organizations that are actively working in the same way. The most beautiful thing of all is that "Stephy Art" is how my family has been a support team that has been a great blessing. 

My dad helps me with the outline of some drawings, my mom helps by putting together the packages and organizing the items, and my boyfriend always makes his time and car available for the exchanges. My pastors help me identify the families that need each package, and the leaders of the Nazarene Compassionate Ministries of my local church help me with delivery logistics when the family is already identified.

As you can see, we are a tool through many hands! God has been good and the initiative will continue as long as the Lord allows it. We all can help in one way or another in the middle of this time.
Yorleny Herz, who pastors Stephanie's church along with her husband, Walter Caravaca, said Stephanie is always willing to pitch in to help. 
"She always collaborates by helping with the decorations of different events in the church," Herz said. "Steph has served in various ministries in our congregation; but if there is something to highlight, it is undoubtedly her compassionate heart and those beautiful adults in the congregation who are willing to support her in everything she does, as a sister in Christ. As her pastors, we are very grateful to God to have her among us, and to be able to grow together, even in these times of pandemic."