Churches respond to food crisis in East Africa
by | 17 Mar 2017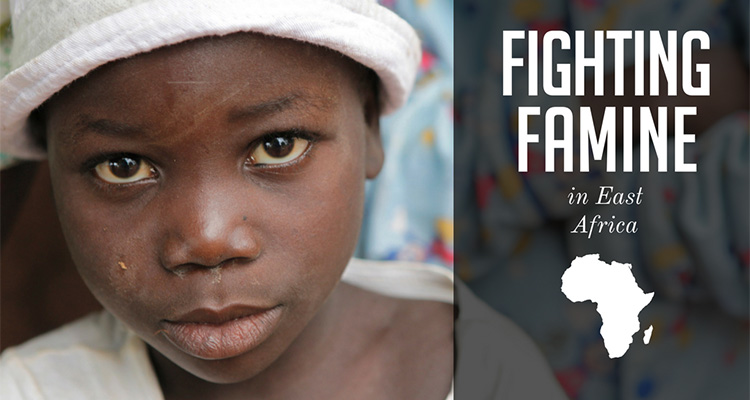 Extreme drought, violent conflict, and scarcity have created a food crisis that is making it nearly impossible for people in East Africa to get the food they need to survive.
Famine has already been declared in South Sudan. Severe drought in other countries, including Kenya, Ethiopia, and Somalia, has created severe food shortages that will lead to famine if the situation is not addressed quickly.
More than 20 million people in this region are in need of urgent food assistance.
In East Africa, Church of the Nazarene leaders are working with local congregations to provide food for families and individuals who are vulnerable to extreme hunger.
Nazarenes in South Sudan have been greatly affected by the famine. Many have fled to neighboring countries, including Uganda and Ethiopia, to seek food and protection from violence. Others who are still in South Sudan are in urgent need of assistance. Church communities in neighboring countries in East Africa are also being affected by severe hunger and the food crisis.
Throughout the affected areas, many farmers are beginning to abandon their farms and homes in search of food in refugee camps that are hundreds of kilometers from their villages. Displacement would have profound negative impacts on these farmers and their families. 
In 2011, the last time a famine threatened this region, nearly 260,000 people died from starvation and malnutrition. Half of those who died were children under age 5.
Church leaders are requesting prayer for those who are hungry and resources for local churches in East Africa as they seek to assist their neighbors.
How to help
Pray
Please pray for the people affected by this hunger emergency. Pray for rain in the region to help relieve drought. Pray for government and international organizations to respond with compassion and urgency. Pray for the local churches in the affected areas as they offer a tangible expression of Jesus' love to their neighbors.
Give
You can support the emergency relief efforts of local churches in East Africa through Nazarene Compassionate Ministries by giving to the Africa Disaster Relief Fund.
To send donations by mail:
In the U.S., make checks payable to "General Treasurer" and send them to:
Global Treasury Services
Church of the Nazarene
P.O. Box 843116
Kansas City, MO 64184-3116
Be sure to put 127362 in the Memo area.
In Canada, make checks payable to "Church of the Nazarene Canada" and send them to:
Church of the Nazarene Canada
20 Regan Road, Unit 9
Brampton, Ontario L7A 1C3
Be sure to put 127362​ in the Memo area.
For any other country, give through your local church or district, designating your gift to the Africa Disaster Relief Fund.