Chic Shaver receives Lifetime Achievement Award
by | 21 Feb 2019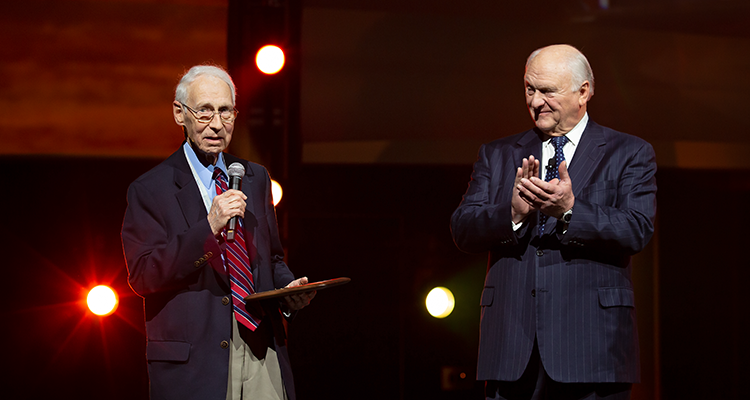 Charles "Chic" Shaver received the Lifetime Achievement Award for his more than 60 years of service as a tenured evangelist, pastor, and professor 12 February at the M19 Conference.
Shaver was raised in Protestant liberalism. He attended the same church for 15 years but never heard that he could have a personal relationship with God through Jesus Christ. While preparing to be a lawyer through studies at Dartmouth College, he began to wonder if it was possible for God to be real to people. A fellow student shared Christ with Shaver in a way that made God seem real and accessible to human beings. That same student invited Shaver to visit the Church of the Nazarene.
At a Sunday evening service, the pastor made an altar call, and Shaver responded. In that moment, Shaver repented of his sins and accepted Christ as his Lord and savior. 
"It was as if a 35-pound lead weight was lifted off my shoulders," Shaver said.
Shaver began serving Christ and His church shortly after and continues today, more than 60 years later.
Church of the Nazarene Revival Coordinator Gary Bond presented the Lifetime Achievement Award during the M19 Conference.
"How many of you present here tonight have been impacted personally by Dr. Shaver as a student, through the Basic Bible Studies for New and Growing Christians or have come to faith in a deeper way through his ministry?" Bond asked.
The crowd of more than 4,000 Nazarene pastors and leaders cheered with enthusiasm and thankfulness for such an influence in their lives.
Shaver shared a brief testimony of God's transforming work in his life and ended with a commitment to God and the church. 
"In the remaining years that God gives to me, I want to do all I can by witness and preaching, and writing and any other thing I can do to spread this message: that you, too, can know God in a personal way," Shaver said. "You, too, can know you are saved. You, too, can know the sanctifying fullness of the Holy Spirit.
The Discipleship Place has released a new course written by Shaver to teach people how to witness. This 12-lesson course gives practical insights to help Christians live out the Great Commission. These lessons address ways individuals can overcome the fear of witnessing, learn what to say, and more.
In the coming weeks, this online course will be supplemented with teaching videos. Those who complete the course can receive a certificate of completion by emailing DiscipleshipPlace@nazarene.org.
The Foundry has also released an online version of the Basic Bible Studies for New and Growing Christians, which is compatible with all smartphones. To access these online Bible studies, visit basicbiblestudies.com, create an account, and send an invitation to the new Christian you would like to disciple today.