Celebrating the life, legacy of Eugene Stowe
by
| 09 Apr 2020
Image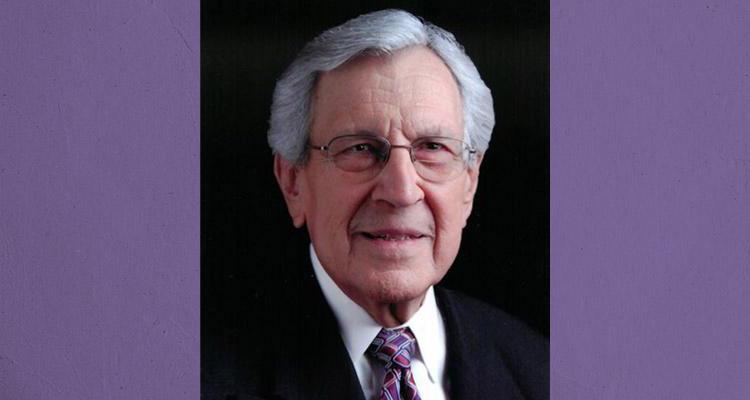 General Superintendent Emeritus Eugene L. Stowe passed away 6 April 2020 at the age of 97.
"Dr. Stowe's reputation and influence have been felt in my own life and the lives of people around the world," said Fili Chambo, chair of the Board of General Superintendents. "His spirit, grace, and commanding presence, his love for God and people, his mentorship of young leaders — all these and more are among the gifts he brought to the Church of the Nazarene. We grieve the passing of this hero; at the same time, we wonder at the celebration he is experiencing! Our thoughts and prayers are with his family at this time."
Stowe was born on 2 May 1922 in Iowa. He first attended Broadway Methodist Church in Council Bluffs, where Phineas Bresee had once pastored prior to the formation of the Church of the Nazarene. Stowe's formative faith years were spent at a Church of the Nazarene Santa Monica, California, where he accepted Christ as his Savior thanks to the ministry of Pastor E.C. Martin.
Upon Martin's insistence, Stowe attended Pasadena Nazarene College (now Point Loma Nazarene University), where he met his wife, Faye Cantrell. The two married in May 1943, not long after graduation.
Stowe accepted his first pastorate at Visalia, California, Church of the Nazarene in 1944. He went on to serve in Oakland, California, and Salem, Oregon, before leading Nampa College Church of the Nazarene in Idaho from 1952 to 1963 while teaching in the religion department at Northwest Nazarene College (now University).
In 1963, Stowe answered the call to become the first superintendent of the Central California District. He served for three years until his election as president of Nazarene Theological Seminary.
"The NTS community shares deeply the sense of both grief and gratitude as we mourn the loss of Dr. Stowe, our third president," said Jeren Rowell, current NTS president. "Dr. Stowe brought a strong pastoral bearing to the leadership of NTS, illustrated in part by his influence in adding faculty in practical theology during his tenure. Dr. Stowe's formidable presence brought a lasting influence on the seminary. We thank God for the life and ministry of Dr. Eugene L. Stowe and pray the Spirit's comforting presence for the family."
Just three years after his election as NTS president, in June of 1968, Stowe was installed as a general superintendent for the Church of the Nazarene. He served in that position for 25 years until his retirement in 1993.
"Dr. Stowe was an imposing man in stature with a booming bass, like 'the voice of God,'" said General Superintendent Emeritus James Diehl. "His worldwide influence for Christ and Christian holiness was not just because of his striking persona. His kindly, Christlike spirit drew people to him. On the other hand, he had the inner courage to make 'the hard decisions.'"
Stowe was known for his faith in new, young leaders.
"Dr. Stowe had the gift of observing younger pastors and discerning those who had the gifting to become outstanding leaders," Diehl said. "He was quoted to have said about a talented young pastor, 'He has future written all over him.' Time has revealed that Stowe was exactly right in his judgment."
Eugene was preceded in death by his wife, Faye, in 2017. Diehl recalled Eugene and Faye's relationship and ministry as a true team.
"Not only did they work and minister together in the pastorate, the district superintendency, as president and first lady at Nazarene Theological Seminary, and in the role of general superintendent, but they were sought after speakers for Ministers' and Mates' retreats across America for years following his retirement," Diehl said.
He is survived by his daughter, Gayla, and son, Lynn.