Caring for our communities
by
| 03 Apr 2020
Image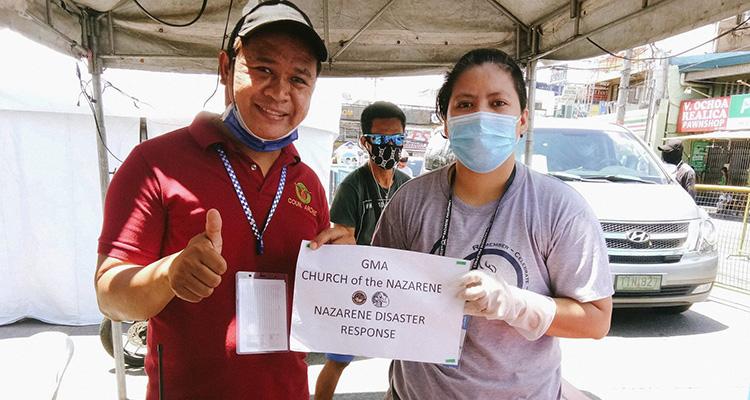 As the coronavirus (COVID-19) continues to spread to nearly every country, local Nazarene churches are already responding. As a global church, we are uniquely positioned to care for the communities in which we live through a network of connected churches, and we can easily share resources, ideas, and encouragement among our sisters and brothers in Christ. Rather than responding in fear, we shall continue to be formed by Christ to respond in love, care, patience, devotion, and boldness.
In the midst of a crisis that touches everyone, people are choosing love. 
In countries in every region—including the Philippines, Albania, Paraguay, Rwanda, the Dominican Republic, and others—Nazarene churches are organizing food and hygiene distributions, mental and social care, extra support for low-income individuals and families, and prevention awareness programs. Though they are closed, child development centers are also continuing to reach out to children, providing food and educational guidance. 
There has also been a strong response from churches in the United States. Nazarene churches in Kentucky, Missouri, Oklahoma, and Philadelphia have responded by switching to drive-through food pantries for those who are low-income, establishing supplemental food care for those who are isolated, developing mental health support systems, and more.
Your church is responding. 
Nazarene Compassionate Ministries is committed to supporting the church in action as we respond together to this unprecedented crisis. To assist in these efforts, NCM has established the following:
COVID-19 Community Response Program to support church-led projects
COVID-19 Direct Assistance Program to support income replacement for vulnerable people
COVID-19 Child and Family Assistance Program to support food distribution to families associated with Child Development Centers and beyond
Learn more about the global church's strategic response to COVID-19 by clicking here.
You can actively love others in Jesus' name, too. Here are a few ideas: 
Practice physical distancing while maintaining social connectedness. 
Though we are encouraged to be physically isolated, that does not mean we are alone. Find creative ways to connect socially. Some ideas include (but are not limited to) calling friends or family members regularly, checking in on those who are alone, scheduling virtual dinners, sending notes of encouragement, and participating in virtual Bible studies and church services.
Safely engage in distribution to those who are vulnerable.
If it is safe to do so, organize distributions of food or non-food items for those who are vulnerable in your community. That might include the high-risk individuals who are isolating, those who have lost vital food support, or those who were vulnerable before the crisis began.  For guidelines on how to organize safe distributions, visit  ncm.org/COVID19.
Give to Nazarene Compassionate Ministries to help fund COVID-19 programs.
This pandemic will cause hardship for a long time, even beyond when the danger is gone. Nazarene Compassionate Ministries is already establishing long-term plans with Nazarene leaders. These will remain fluid as the needs change in order to provide the care that is needed, when it is needed. To give, click here.
Pray.
These are days where prayer should be the response to fear. Please pray for those who have lost loved ones to the virus and those who are sick. Pray for those who are vulnerable and will lose crucial sources of income. Pray for the churches and leaders who are organizing responses. To send a prayer or note of encouragement through NCM, go to ncm.org/pray.