Brazil leadership conference presents techniques for leading modern church
by
| 11 Jun 2021
Image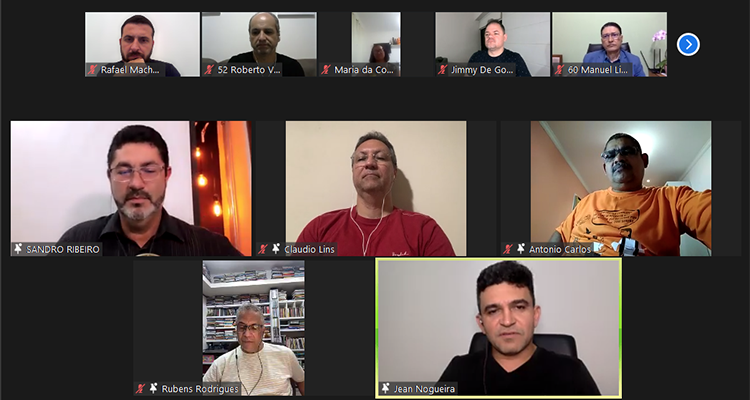 The Church of the Nazarene in Brazil held a virtual leadership conference 28-29 May. The conference was attended by over 200 superintendents, pastors, and local leaders.
The speakers were General Superintendent Gustavo Crocker, Regional Director Christian Sarmiento, Joshua Campanhã, Jimmy De Gouveia, and José Luis Becerra. The event was hosted by Manuel Lima, director of the Brazil Subregion, and Sandro Ribeiro, holistic ministries coordinator.
According to Ribeiro, expectations for the conference were exceeded. 
"The conference was a blessing from God for our church," he said. "We hoped to work on issues that could be brought into the daily practice of the church, especially with regard to matters relating to discipleship." 
He highlighted the message from Jimmy De Gouveia, which talked about the importance of active listening for leaders. 
"This is of fundamental importance today," Ribeiro said. "We live in a world of 'crossover monologues' where people want to talk but don't always want to listen. To understand the wishes, concerns, ideas, and opinions of others, we must learn to listen carefully. Active listening brings people together and intentionally provokes a relational development between them. Jesus taught His disciples, but He also listened carefully to them."
Anderson Rentes, pastor of Portal Bordon Church of the Nazarene, shared the impact that the conference had on him.
"I have been in the Church of the Nazarene for many years," Rentes said. "The approach of this conference was impactful for me, mainly the theme of 'the pastor as coach.' As a modern church, we can't shy away from applying techniques that improve our shepherding and caring, and the conference was about that."
The satisfaction and results of these online meetings have expanded opportunities for leadership development and opened possibilities to hear the ministry of relevant pastors and leaders from around the world. 
"Speaking with some of those who participated, we were able to hear the immense satisfaction they had in participating and conference opened the minds of many of them," said Manuel Lima. "May this encourage us."