Australia coffee shop ministry provides space for 'authentic community'
by
| 03 Sep 2020
Image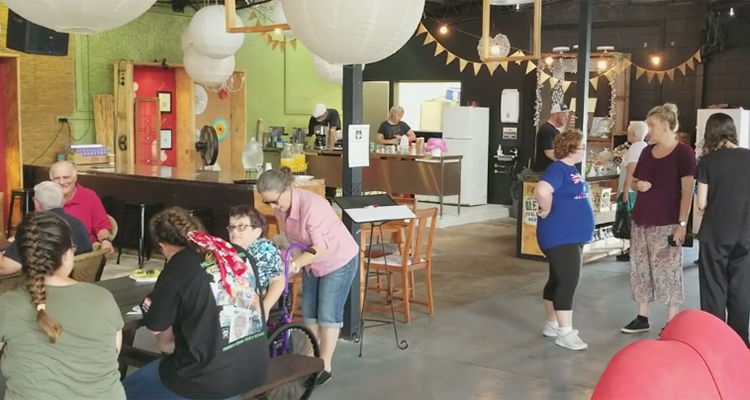 In the rural city of Maryborough in Queensland, Australia, The Chatterbox offers a welcoming place for all to relax with free tea, coffee, cakes, and other sweet treats, all with the goal of creating both time and space to develop authentic community.
Richmond Street Community Church of the Nazarene started this ministry in 2015. The Chatterbox opens for two and a half hours every Thursday morning during the local farmer's market as a volunteer service to its local community of 27,000 people. 
The Chatterbox began at a challenging time for the Richmond Street church. In 2013, the church was without a pastor, and only a few members remained. 
"It was after a very discouraging season at Richmond Street with lots of things happening that I preached 'You are the light of the world' [Matthew 5:14-16]," said Cameron Batkin, pastor of the Richmond Street Community church. "I asked the question that if we closed the doors and just walked away, would anyone ever know that we existed as a church. That sent Naree Horne, one of our board members, into a season of prayer. About three months after, at a board meeting around the kitchen table, Naree shared a vision for what was to become Chatterbox." 
The church was inspired by a vision and desire to connect with the local community. Naree showed up with an electric kettle (coffee maker) and some cake she bought at a local supermarket. 
"We only ever expected it to be a small thing with maybe 3-4 people a morning turning up," Batkin said. "We opened on 26 March 2015, and within a month or so we were reaching between 40 and 80 people a week."
This ministry serves as a regular gathering place for people with various disabilities, young mothers and their children, older men separated from their families, the homeless, and others. While it is a ministry of the church, Batkin believes the ministry's not so "up-front" approach has helped people gain a comfortability with a church-sponsored meeting place.
"We do want them to come to church," Batkin said. "But we're doing this because this is what we feel we need to do rather than this being about us building Sunday. This is just about us being faithful."
Over the years, The Chatterbox has received several community awards and has been featured in the local newspaper. Additionally, the Queensland state government assisted with some funding that allowed the church to install a kitchen and running water.
Shortly after celebrating its fifth anniversary of ministry, the COVID-19 global pandemic forced The Chatterbox into temporary hiatus. 
 "We can't meet because of the current restrictions, so we make sure we stop and greet them when we see our Chatterbox family when we are out and about." 
Despite the challenges, the Chatterbox team projects optimism about what God is doing. 
"Every week is different," Batkin said. "One of the cool things is that God has always provided. We have a few choices [for food] every week, but sometimes just before we open or just after, someone will just randomly bring in a freshly baked cake or something to share. We have never run out of food, even when we think it will be tight. We always have enough. The greatest challenge for us is that we stay in God's hands and are faithful to the call to serve our community."