Trevecca Urban Farm receives $50,000 grant
by | 06 Jan 2016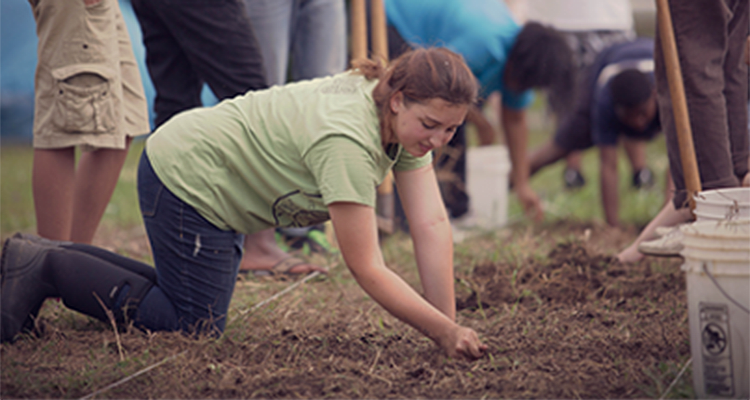 Nashville residents may soon know more about preserving and marketing locally grown produce, thanks to a grant received by Trevecca Nazarene University's Urban Farm. The $50,000 grant from the Aetna Foundation will fund a project to teach local residents how to preserve, package, and market locally grown food.
The campus Urban Farm sits in an urban food desert, a term for neighborhoods without ready access to fresh, healthy, and affordable food. Jason Adkins, director of environmental projects at Trevecca, said that providing greater access to locally grown food and educating residents, especially youth, has always been an important focus of the Urban Farm.
"Being located in a food desert raises the challenge of thinking and acting alongside our neighbors to open up new ways to access healthy food," Adkins said. "Presently, those least prepared to bear the cost of ill-health have access to food that leads only to diet-related illnesses. Growing and preserving our own food is the most affordable and gratifying pathway to health, and we can do this at next to no cost on the ground beneath our feet."
The Aetna Foundation grant will allow the Urban Farm to continue and expand work. The grant money will continue to support camps and internships for middle and high school students, but also fund increased training opportunities at those camps and in the neighborhood.
"We would like to include youth from our camps and school partnership — as well as interested people from the neighborhood surrounding the Urban Farm — in a training process of preserving, packaging, and marketing local produce," Adkins and Chris Farrell, emeritus professor of biology and the environment, wrote in the grant proposal.
Training local gardeners about preserving the harvest will make healthy food choices more readily available to the community year-round, Adkins says. It will also provide a way for the Urban Farm to grow produce, and then process it into value-added products that can then be sold, increasing the Urban Farm's economic sustainability.