'Ludoteca' making impact in Panama
by
| 01 Jun 2022
圖片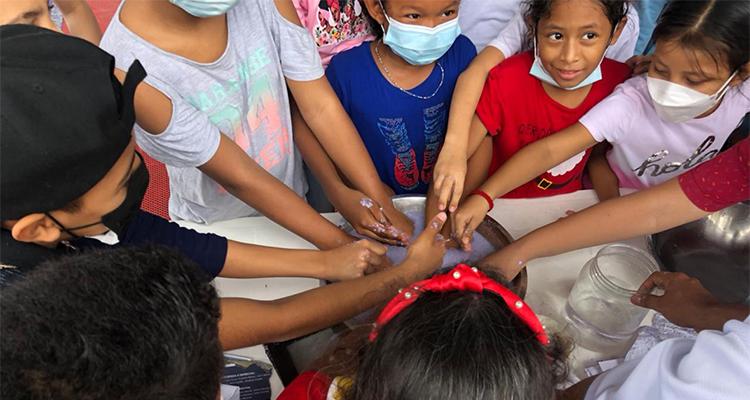 More than 150 people of different age groups participated in the Ludoteca (toy library), a Nazarene Discipleship International tool from the Central District of Panama.
The Ludoteca program is designed by the district NDI council, and the slogan is Jugando aprendo (Playing I learn). The goal is to share knowledge through playing games, for both children and the elderly.
The Ludoteca games rely on mental and/or physical abilities and artistic activities to affirm biblical teachings. They were designed to stimulate the physical, mental, and spiritual development of people as well as promoting teamwork and solidarity. District leaders hope that other churches will adopt this program.
Apolinar Monegro and his wife, Anyi, lead Nueva Esperanza Iglesia del Nazareno, which helped develop the Ludoteca. They created games that involved dancing, singing, jumping rope, and more to help the children learn about the Bible.
"All the children liked it, so we agreed to do the activity again together with other churches," Anyi said. "We are doing playful games every Sunday with biblical content. They really enjoy each activity, and the most important thing is that they are learning a lot about the Scriptures."
Several of these Ludotecas have been utilized in Panama, the first at Juan Díaz Church of the Nazarene with a group of older adults. There the children played games to the rhythm of music and ate a healthy snack. The group was encouraged and its value and importance in society was affirmed.
Another Ludoteca is located in Los Libertadores, headquartered at the Pan de Vida church (Genesis Church). There, six Nazarene churches volunteered to serve the more than 100 attendees— children between the ages of 2 and 11.
A Ludoteca was also held in Ancón with the assistance of 25 young people and adults. In addition, the Nueva Esperanza and Paso Blanco churches joined forces to create their own Ludoteca where 20 children participated, and the churches of Altos de Cabuya and Tocumen also held their first Ludoteca with the attendance of 35 children.
"We pray that God [will bless] the church through this strategy, which we have contextualized to disciple and reach more people for the Lord," said Alejandrina Corpas, district NDI president.