Students serve community at NYC
by
| 18 Jul 2019
圖片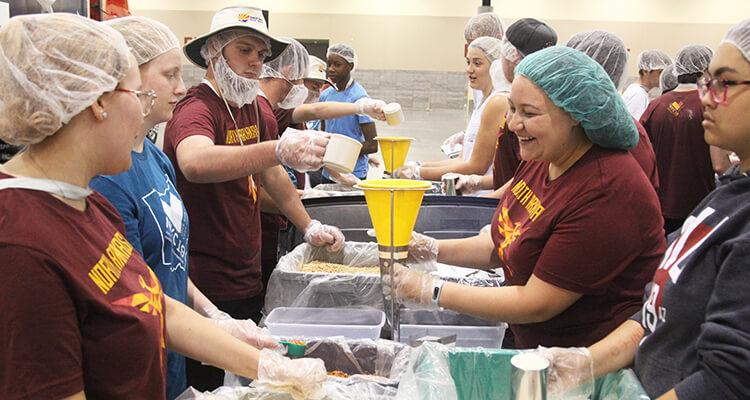 More than 8,000 teenagers spread out across Phoenix, Arizona, to serve during the USA/Canada Region's Nazarene Youth Conference, held 10-14 July. The teenagers served at dozens of locations across the city, carrying out the event's theme, "Love God, Love Others."
These community service projects were diverse, ranging in both location and topic. Projects were organized into six categories: community engagement, church support, child development, compassionate response, education aid, and hunger relief. 
Some students served at local elementary schools, painting a mural or getting gardens ready for the start of school. Others packed food at organizations addressing food insecurity or helped organize letters to sponsored children. 
Cecily, a student from Texas, served at Feed My Starving Children, where the students packed boxes of food. 
"All 239 of us in a room packing food for kids, all together — that's just so impactful," Cecily said. 
Community is a unique part of service and something that the conference helped to cultivate. By loving others together, students were able to become part of something larger than themselves.
Claire, also from Texas, felt that community aspect in more ways than one. Her group's project was to play games with veterans; this was an opportunity for the group to chat and connect with them. She said that it was important to spend that time together.
"Before you go and say, 'I'm a Christian, and Jesus loves you' — before you do that, you make a connection first," Claire said.
Part of the challenge of hosting NYC in the summer is finding service projects that aren't exclusively outdoors. This is particularly true in Phoenix, where temperatures regularly exceed 100 degrees Fahrenheit in July. Several districts completed their service projects in the Phoenix Convention Center, organizing school supplies, creating emergency food kits, and more. 
The students' compassionate acts addressed a small piece of local and global needs, but they also impacted each student, who will take home the concept of loving others. 
"It's really fun because you're doing just a small part of it, but it still gets done," Claire said. 
Conference attendees also gave an offering of nearly $33,000 to support the Southwest Native American District in Arizona, Appalachia Reach Out in Kentucky, and The Sharing Place in Toronto, Canada.