Philippines church recognized in fight to end online sexual exploitation of children
by | 15 Nov 2018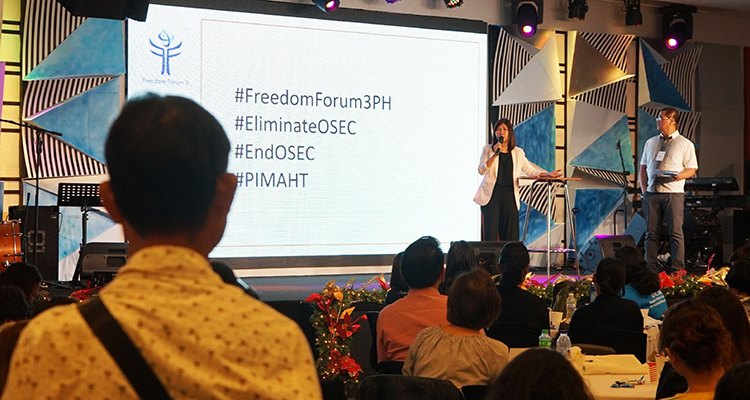 Nazarene Compassionate Ministries recently participated in the Freedom Forum, a national event in the Philippines to address human trafficking. 
Online exploitation of children is a growing threat in the country. More than 70 percent of Filipino child exploitation victims are forced into this industry by family members or neighbors, robbing these children of their childhood and dignity.
The Philippine Interfaith Movement, which hosted the 8 November forum, believes eliminating sexual exploitation and victim rehabilitation can only be accomplished through effective law enforcement, effective prosecution of criminals, and effective aftercare for victims. 
The Church of the Nazarene received special recognition in the fight to end child online sexual exploitation by providing effective aftercare through the newly opened Shechem Children's Home for victims.
"The battle is not easy, but we believe in a God who is greater than the battle," said Stephen Gualberto Philippine-Micronesia Field Strategy Coordinator.
This year's forum speakers included the national director of the Philippine Council of Evangelical Churches, the chief of the Philippine National Police's Women and Children Protection Center, and several exploitation survivors. Speaker after speaker, story after story, attendees were made aware of the challenges and the rewards that come with eliminating online sexual exploitation.
Delegates participated in workshops on how to be aware of, stop, and prevent online sexual exploitation. Several booths sold crafts, resources, and materials to raise money for local ministries that are currently combatting online exploitation.
The forum emphasized that this supporting environment is every person's job — especially those within the church — and without proper support, the problem will only continue to grow.
"The Freedom Forum enables us to rally the whole church and faith community to discuss the issue of [child exploitation] and lead them to action," said Leody Echavez, field NCM coordinator. "Seeing the Catholics, protectants, and evangelicals working together to end OSEC was a great encouragement for me."